Firm Tries to Keep 3-D Printer Users in Shapes
TECHNOLOGY: 3Diligent works as middle man to line up companies, clients.
Friday, January 6, 2017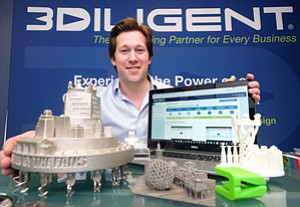 The promise of 3-D printers, heralded as a cutting-edge tool for manufacturers, has run into the reality that they are often too pricey, too specialized, and quick to become obsolete.
In light of those hurdles, 3Diligent of El Segundo has launched an online marketplace for 3-D printing services, which it claims will expand access to a wide variety of 3-D printing methods, while helping manufacturers avoid the cost of purchasing expensive equipment. The company is trying to position itself in the middle of a 3-D printing market that is projected to balloon to more than $20 billion in 2020, more than four times as large as the market last year, according to a report by Deloitte.
"The underlying concept is similar to how you use Amazon or Uber, when you need to buy something or get somewhere," said Cullen Hilkene, 3Diligent's founder and chief executive, noting that the online platform connects customers with independent shops that can meet their 3-D printing needs.
The company offers two online bidding services: 3Diligent Marketplace and 3Diligent Direct.
The marketplace is meant for customers with noncomplex designs, who submit their project specs online and receive prompt quotes from several vendors. Marketplace customers pay $100 a month or $1,000 for an annual subscription to gain access to the platform, plus an additional cost for parts ordered.
The Direct service is an option for more complicated or confidential projects that require more hands-on support, such as prototype parts. The company charges customers from 10 percent to 15 percent of the fee charged by the vendor for this service, depending on the order amount. Hilkene said the bulk of the company's "several hundred" customers use the Direct service.
By connecting manufacturers with shops across North America that specialize in different types of 3-D printing, Hilkene said his firm's platform makes it easier for shops to afford the technology's benefits without having to make heavy capital investments for industry-grade metal 3-D printers, for instance, which cost more than $100,000.
"Companies don't like spending money on something that might be obsolete in a couple of years," he said.
He said the company has facilitated serval hundred orders to date, with the average transaction totaling around $1,000. Manufacturers of industrial and medical products are the platform's most common customers.
However, for the website to succeed it will have to face down industry giants such as Valencia's Stratasys Direct Manufacturing, which manufactures 3-D printing equipment and operates its own 3-D printing service.
That means 3Diligent will have to be more than just an online broker, said Tom Copeland, vice president of operations for Southwestern Industries of Rancho Dominguez, which makes computer-controlled industrial mills and lathes, and regularly orders 3-D printed parts.
"Lots of brokers are usually short-lived," said Copeland. "Why have a middle man?"
Fit to print?
Hilkene formed 3Diligent, which has five employees, in 2015 and its service went live in March. He said he came up with the idea for the company while working as a strategist for Deloitte Consulting and noticed that relationships between 3-D printing services and manufacturers were not well organized, largely due to the vast numbers of 3-D printers on the market.
He said the he subsequently raised $1.2 million in seed funding from an undisclosed group of angel investors to get the network off the ground. He declined to say what the company's revenue was last year.
He contends that 3Diligent's online platform has value because it saves companies money and allows them to avoid the hassle of connecting with the right vendors. He said 3Diligent has helped customers save between 20 percent and 70 percent on printing costs by better matching manufacturers to shops with the right capabilities.
"There are really big savings to be had and really big turnaround benefits to be had if you can right-size the supply for a specific demand of a project."
The key to competing with big and established 3-D printing players, Hilkene said, is offering superior project management and consulting insight.
Southwestern's Copeland said that type of support could be beneficial.
"Rather than me spend the time researching the various printers and materials that are out there, if I could go to someone and describe a problem and he could pick the company that has the equipment, then that has value," said Copeland.
3Diligent is leveraging an emphasis on 3-D printing knowledge to earn traction with its early customers. It was important to John Pendleton, president of Swagelok's division in Kansas City, Kan. The distributor of valve, fitting, and fluid systems, has ordered custom plastic parts through 3Diligent's platform.
"A company like 3-Diligent allows us to dip our toes in the water before we'd make our own investment in the technology," said Pendleton.
For reprint and licensing requests for this article, CLICK HERE.