Startups Open Arcades to Play Up Virtual Reality
TECHNOLOGY: Centers aim to prove to consumers that new medium worth a look.
Friday, February 24, 2017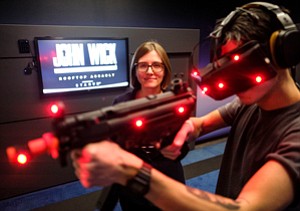 High-grade virtual reality headsets and accessories have made wondrous advances in the past five years, but steep prices have kept consumers from embracing the technology.
A growing cast of L.A. startups is trying to crack that resistance by opening arcades as a way to satiate the public's curiosity about virtual reality without forcing them to shell out big bucks.
The firm with perhaps the most elaborate vision is Dreamscape Immersive, which launched last year and announced plans this month to open a virtual reality center in Westfield Century City Mall in September. The Santa Monica startup's electronic rigging allows up to six people to explore and work together in a single virtual landscape. Participants wear sensors on their hands and feet and their movement is tracked around a large room with an array of 16 cameras.
"It will be not unlike a truly big-screen cinema experience, what (Imax Corp.) did for years, or a live show, or theme-park attraction," said Bruce Vaughn, chief executive of Dreamscape and former chief creative executive at Walt Disney Co.'s Imagineering unit. "I think you can offer something that is a destination, something people will want to do with friends and family."
Dreamscape raised $11 million this month from director Steven Spielberg and film studios Warner Bros. Entertainment Inc., 20th Century Fox Film Corp., Metro-Goldwyn-Mayer Inc., and, perhaps fittingly, Imax. Other investors include Santa Monica venture firm Bold Capital Partners and mall chain Westfield Corp.
Expanding reality
Dreamscape is not alone in the pursuit.
Imax has its own virtual arcade, the Imax VR Experience Centre, which opened last month in a former hat factory across from the Grove shopping center in L.A.'s Fairfax District. Downtown-based Two Bit Circus raised a $15 million Series B round in January to open a 30,000-square-foot "micro-amusement park" in the L.A. area this year, which would include virtual reality attractions.
In addition, the companies are banking that the ever-advancing technology will pull customers through the door for years to come. Many arcades have plans to add advanced electronics, such as proprietary headsets, motion-tracking sensors, virtual guns, gyrating chairs, vibrating backpacks, and rooms equipped with fans to simulate wind.
"The headsets are so different from what you had a generation ago," said Rob Lister, chief development officer at Imax. "There is a lot of capital in the system so the technology is going to continue to improve."
Virtual reality was brushed off as a fantasy and theme-park gimmick for decades, but that changed in 2014 after Facebook Inc.'s $2 billion purchase of Irvine startup Oculus VR, which manufactures a headset with screens that are able to almost instantaneously change their projected 3-D scenery as a user shifts their gaze, and do so at higher-resolution than earlier hardware.
Dozens of startups and virtual reality products dedicated to making headsets, accessories, virtual reality games, and films have followed. Sony Corp., HTC Corp., and Samsung Group have all launched their own headsets.
Despite the commitment from hardware makers, price points have been slow to fall, slowing adoption.
The Oculus Rift headset, which started shipping to consumers a year ago, costs $600 and requires a companion PC system that retails for at least $1,000. Only 355,000 Oculus headsets were sold last year, according to New York-based SuperData Research.
Consumers are reluctant to spend several thousand dollars on technology that is not familiar to them, said Jon Goldman, a venture partner at downtown's Greycroft Partners.
The advent of arcades could help in that regard.
"It's a very high-risk investment for a consumer who hasn't sampled it," he said. "There are lots of opportunities for consumers to sample stuff in an arcade."
Virtual reality arcades are already quite popular in China. Spaces Inc., a content developer based in Santa Monica that launched in January of last year, formed a joint venture in June with Chinese theme-park operator Songcheng Performance Development Co. to develop virtual reality attractions within amusement parks across that country. The lead investor in Spaces' $3 million seed round was Comcast Ventures, the venture arm of Universal Studios-parent Comcast Corp. Songcheng invested $6.5 million in the company last month.
Movie model
Paying for a virtual reality experience at Imax's Fairfax center feels a bit like attending the movies, with viewers required to buy tickets for a specific title and show time. Ticket prices range from $7 to $10 – about $1 a minute. More than 6,000 people have purchased tickets since the center opened on Jan. 6, and about 75 percent of those users had not tried virtual reality before, according to the company.
Several Imax virtual reality games, including "Star Wars: Trials on Tatooine" and "John Wick Chronicles," are based on popular Hollywood films.
These arcades are not a one-off gimmick, said Kasia Swica, manager of corporate development at Imax.
"We think it's a revenue-generating business," she said. "Something we are going to bring around the world and make some money from."
The company has set aside $50 million to co-invest in virtual reality games and films, content Imax will have the exclusive right to exhibit before it's released to other distribution partners. In addition, six virtual reality locations are planned in the United States, Great Britain, Japan, and China. The arcades will be placed inside movie theater lobbies and auditoriums with multiplex partners such as Regal Cinemas, said Imax's Lister.
"There are lots of exhibitors that are really excited to do something different, particularly for millennials who haven't gone to the multiplex in the same numbers they did years ago," he said.
Dreamscape's connection to several major studios has caused some to speculate that it could become an important cog in Hollywood's virtual reality content pipeline. The company plans to open more than four venues a month throughout 2018, Vaughn said. Tickets will cost $15 to $20 for an experience that lasts about 10 minutes.
"People are looking for an opportunity to get out and have shared experiences outside their homes," he said. "You won't be able to do what we do at home for a long time, if ever."
For reprint and licensing requests for this article, CLICK HERE.