Produce Company Sows Seeds of Growth in Deal
AGRICULTURE: Progressive branches out into more fruits with deal for competitor.
Friday, February 24, 2017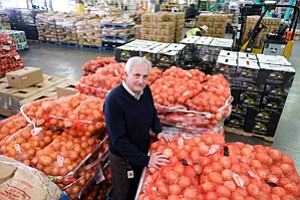 A 50-year-old Commerce produce distributor with an appetite for expansion has gobbled up a competitor in the fruit and vegetable market.
Progressive Produce acquired produce distributor Keystone Fruit Marketing Inc. this month for an undisclosed amount. The deal will add $60 million annually to Progressive's top-line revenue of around $230 million and make Keystone, based in Greencastle, Penn., a division of Progressive, said Jim Leimkuhler, Progressive's president.
"We've known the company for over 20 years," he said. "We've worked with them on asparagus and sweet onions. It was just a natural fit."
Progressive, which sells its produce to large grocery stores and food service companies around the country, itself sold a majority stake last year. Irish giant Total Produce bought up 65 percent of Progressive, which now operates as a subsidiary.
The Keystone deal will grow Progressive's offerings, adding apples and peaches to its menu of products, said Katie Horvath, a lecturer in agribusiness and food industry management at Cal Poly Pomona.
"Progressive has never done peaches and apples, so to acquire a business selling those fruits will bring them out of the vegetable market into (that new segment)," she said.
A representative from Keystone couldn't be reached for comment.
The acquisition will also give Progressive and Total Produce a foothold on the East Coast, said Jim Prevor, editor-in-chief of trade publication Produce Business in Boca Raton, Fla.
"The ownership of Progressive just celebrated the company's 50th anniversary," said Prevor. "They saw it as an opportunity to become more of a national player, to continue the expansion they've been undergoing for decades, and to jumpstart their business by combining with an East Coast company."
Progressive's five distribution warehouses are in Commerce, the City of Industry, Bakersfield, and Washington state. It has about 250 employees.
Total, headquartered in Dublin, has been aggressively expanding its U.S. presence by acquiring regional wholesalers such as Progressive, according to Prevor. The parent company generated revenue of about $3.7 billion in 2015, according to its reported earnings.
A spokeswoman for Total declined to comment last week.
The consolidation in the produce industry follows a trend toward consolidation among grocery chains in the United States, said Prevor. However, the industry remains highly fractured and lacks dominant players.
"Progressive and Keystone combined are very substantial, but they're still much less than 1 percent of the industry," he said.
Revenue from fruit and vegetable wholesaling in the United States is projected to reach almost $92 billion this year and grow 2.1 percent annually for the next five years, according to market researcher Ibis World.
Prev Next
For reprint and licensing requests for this article, CLICK HERE.