Owners Look to Sell Print Publications as Ad Revenue Dwindles
Paper Pushers
Friday, February 24, 2017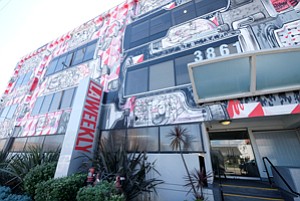 A new year always brings postholiday sales. While that typically involves clothes and electronics, a few major L.A. print publications are also in the market for a buyer.
The list of local papers on the sales block over the past year includes the Los Angeles Downtown News, LA Weekly, Los Angeles magazine, and, of course, the Los Angeles Times. There are also rumblings that entertainment trade papers Hollywood Reporter and Billboard could be available to the highest bidder after owner Eldridge Industries hired investment banks to review its portfolio last year.
While it's not news that print journalism has had trouble adjusting to the digital age, some media watchers called the high number of outlets up for sale in Los Angeles yet another signal of distress for print journalism as a whole as advertising continues to decline.
Los Angeles, said Ken Doctor, a media analyst for Santa Cruz-based online magazine Politico, has "a lot more media than most cities that I can think of, and the decline was greater in 2016 than in 2015. Most expect similar declines in 2017. If you are in these businesses, you are saying, Doesn't look like a turnaround. If we are still profitable, it's time to get out."
Times parent tronc Inc., which also owns the Chicago Tribune, among other papers, reported last week that print ad revenue fell to about $681 million last year from roughly $764 million in 2015 – a decrease of 11 percent. (See page 4.)
Others foresee a new media landscape in a city with a tradition of reinvention.
"It is a sign of the shaking out continuing in the media industry – it will be interesting to see if there are buyers and what prices they pay," said Kevin Roderick, editor and publisher of media blog LA Observed. "For anyone who wants to step up and get in the publishing game, there are opportunities."
Emmis Communications Corp., parent company of Los Angeles magazine, announced a proposal in August to take the company private and sell off noncore assets, including Los Angeles and Orange Coast magazines and several other regional monthly publications. Emmis would offer no comment on a potential sale.
Emmis, which sold Texas Monthly in October for $25 million, is still looking to unload Los Angeles magazine.
Downtown News owner and publisher Sue Laris announced in September that she was putting the free weekly up for sale after 44 years. LA Weekly's parent company, Voice Media Group, said in mid-January that the alt weekly would be the latest of its publications to be sold off, citing an effort to diversify its portfolio by building Voice's digital agency business.
Prev Next
For reprint and licensing requests for this article, CLICK HERE.