Owners Look to Sell Print Publications as Ad Revenue Dwindles
Paper Pushers
Friday, February 24, 2017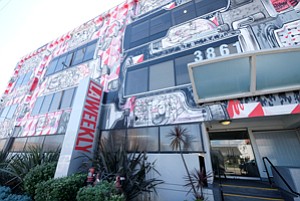 A new year always brings postholiday sales. While that typically involves clothes and electronics, a few major L.A. print publications are also in the market for a buyer.
The list of local papers on the sales block over the past year includes the Los Angeles Downtown News, LA Weekly, Los Angeles magazine, and, of course, the Los Angeles Times. There are also rumblings that entertainment trade papers Hollywood Reporter and Billboard could be available to the highest bidder after owner Eldridge Industries hired investment banks to review its portfolio last year.
While it's not news that print journalism has had trouble adjusting to the digital age, some media watchers called the high number of outlets up for sale in Los Angeles yet another signal of distress for print journalism as a whole as advertising continues to decline.
Los Angeles, said Ken Doctor, a media analyst for Santa Cruz-based online magazine Politico, has "a lot more media than most cities that I can think of, and the decline was greater in 2016 than in 2015. Most expect similar declines in 2017. If you are in these businesses, you are saying, Doesn't look like a turnaround. If we are still profitable, it's time to get out."
Times parent tronc Inc., which also owns the Chicago Tribune, among other papers, reported last week that print ad revenue fell to about $681 million last year from roughly $764 million in 2015 – a decrease of 11 percent. (See page 4.)
Others foresee a new media landscape in a city with a tradition of reinvention.
"It is a sign of the shaking out continuing in the media industry – it will be interesting to see if there are buyers and what prices they pay," said Kevin Roderick, editor and publisher of media blog LA Observed. "For anyone who wants to step up and get in the publishing game, there are opportunities."
Emmis Communications Corp., parent company of Los Angeles magazine, announced a proposal in August to take the company private and sell off noncore assets, including Los Angeles and Orange Coast magazines and several other regional monthly publications. Emmis would offer no comment on a potential sale.
Emmis, which sold Texas Monthly in October for $25 million, is still looking to unload Los Angeles magazine.
Downtown News owner and publisher Sue Laris announced in September that she was putting the free weekly up for sale after 44 years. LA Weekly's parent company, Voice Media Group, said in mid-January that the alt weekly would be the latest of its publications to be sold off, citing an effort to diversify its portfolio by building Voice's digital agency business.
For-sale rumors also began to fly earlier this month when Janice Min, co-president and chief creative officer at Eldridge's Hollywood Reporter and Billboard, stepped down to take a post with the parent company overseeing media investments and acquisitions.
Feeding such rumors were numerous reports that in recent years Hollywood Reporter and Billboard lost as much as $20 million annually, at least in part due to Min's heavy spending to transform the publication from a daily trade into a glossy, more consumer-oriented weekly magazine, moving much of the trade news coverage online.
Neither Min nor Eldridge – chaired by Los Angeles Dodgers co-owner and former Guggenheim Partners President Todd Boehly – would comment on a potential sale.
A source familiar with the situation confirmed that Condé Nast International approached Eldridge about buying the Hollywood Reporter last year, but those discussions had ended. Eldridge is not soliciting another buyer.
Condé Nast did, however, purchase Beverly Hills-based social data and marketing firm CitizenNet Inc. earlier this month for an undisclosed sum. The purchase is seen as a sign of the increasing importance of social media distribution for the legacy print conglomerate.
Papers on prowl
While some outlets have played coy about the possibility of a sale, LA Weekly and Downtown News are actively flirting with potential buyers. True to its alternative roots, the Weekly tweeted a personal ad for the paper in January: "This cultured, free-spirited, deep-thinking 38-year-old is looking for a like-minded millionaire/billionaire for an LTR. Must love innovation as much as ink stains."
Laris of the Downtown News published a personal letter to the paper's readers that says in part: "It has been an extraordinary and fulfilling run, but I am no longer the right person to lead this business. I got old here. The town did not. … I'm looking for the right person to pick up the mantle and take this great little newspaper the next amazing step."
Some in the news business suggest the Downtown News has created a niche that might maintain its value even as print advertising declines for others, especially in light of downtown's real estate boom.
"They are right at the epicenter of the most interesting development area in the city," LA Observed's Roderick said. "It's a good place to be."
Others says that the Weekly, which the parent company calls the nation's most widely read alt weekly, has a good chance to cash in on marijuana advertising after the passage of Proposition 64. The state law's language on marketing and advertising limits broadcast, cable, radio, print, and digital communications to locations in which at least 71.6 percent of the audience is reasonably expected to be 21 or older. That might cause many broadcast and digital outlets to avoid pot ads altogether.
Politico's Doctor said marijuana advertising represents a major trend in alternative newspapers in states that have legalized recreational use.
But niche print ads won't cut it on their own said Jay Penske, chief executive of L.A.-based Penske Media Corp., owner of Variety and Deadline Hollywood. Penske said L.A. publications must adapt their brands to a digital media market. Last year, he acquired the Robb Report, an international luxury lifestyle brand based in Los Angeles and New York.

"Indeed, some Los Angeles media properties are currently up for sale," said Penske in an email. "But while publishers fixate on the geography and modes of distribution (online, social, print), we believe that the right steward with a great brand will not only survive, but will have the opportunity to thrive if the right long-term digital and technology investments are made."
For reprint and licensing requests for this article, CLICK HERE.