Japan Investor Mitsui & Co. Plants L.A. Flag
REAL ESTATE: CIM sells 20 percent stake to Mitsui.
Friday, February 24, 2017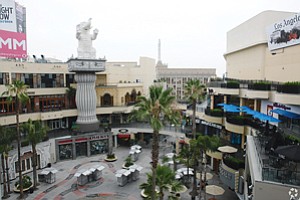 CIM Group, one of the largest – and quietest – L.A. real estate investment companies, has sold a 20 percent stake in its business to Mitsui & Co. Ltd. of Tokyo in a transaction valued at as much as $550 million.
The deal, announced last week, might pave the way for CIM to take in hundreds of millions of dollars from Japanese investors through Mitsui's investment advisory arm.
Mitsui said it would invest $450 million to $550 million in CIM, with equity going into the latter's operating platform as well as its investment funds. Mitsui did not disclose the breakdown of the investment, but said the deal would give it a 20 percent ownership stake in CIM. The company also said it planned to encourage further Japanese investment in CIM through its Japan Alternative Investment Co. Ltd. subsidiary.
Avi Shemesh, CIM's co-founder, said the deal is a means to facilitate growth for the company, which counts about $19 billion of assets under management.
"We are excited to partner with Mitsui to position CIM to be the first choice for Japanese investors interested in real estate and infrastructure investments in North America," Shemesh said in a statement. He declined interview requests.
More partnerships such as this could be in the pipeline, as Japanese investors seek to move capital out of Japan, said John Livingston, chief exwecutive at Century City developer Aecom Capital.
"Deals like this are good for both sides," he said via email. "They give Japanese investors access to a broad diversity of investment opportunities in the U.S. and they help them to deploy capital outside of Japan efficiently. For U.S. businesses, it's simple, these deals provide them with needed capital to grow their platforms."
Looking abroad
Mitsui's investment is the latest in what has recently been a trickle of Japanese investment into U.S. real estate, something industry professionals said is set to grow as Japanese investors look to the United States as an attractive alternative to the low returns found in their country.
"The Japanese market has not grown the way Japanese investors would like," said Stephen Cheung, president of L.A.'s World Trade Center, which promotes international commerce. "No matter where you look, the U.S. has continually been the most reliable place for stable investments that generate a good yield."
Mitsui, a 70-year-old company with a market capitalization of about $26 billion, pinpointed the same assertion in its announcement of the CIM deal.
Prev Next
For reprint and licensing requests for this article, CLICK HERE.