Japan Investor Mitsui & Co. Plants L.A. Flag
REAL ESTATE: CIM sells 20 percent stake to Mitsui.
Friday, February 24, 2017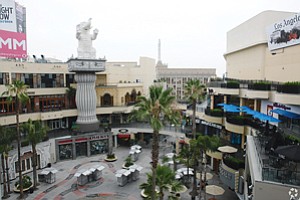 CIM Group, one of the largest – and quietest – L.A. real estate investment companies, has sold a 20 percent stake in its business to Mitsui & Co. Ltd. of Tokyo in a transaction valued at as much as $550 million.
The deal, announced last week, might pave the way for CIM to take in hundreds of millions of dollars from Japanese investors through Mitsui's investment advisory arm.
Mitsui said it would invest $450 million to $550 million in CIM, with equity going into the latter's operating platform as well as its investment funds. Mitsui did not disclose the breakdown of the investment, but said the deal would give it a 20 percent ownership stake in CIM. The company also said it planned to encourage further Japanese investment in CIM through its Japan Alternative Investment Co. Ltd. subsidiary.
Avi Shemesh, CIM's co-founder, said the deal is a means to facilitate growth for the company, which counts about $19 billion of assets under management.
"We are excited to partner with Mitsui to position CIM to be the first choice for Japanese investors interested in real estate and infrastructure investments in North America," Shemesh said in a statement. He declined interview requests.
More partnerships such as this could be in the pipeline, as Japanese investors seek to move capital out of Japan, said John Livingston, chief exwecutive at Century City developer Aecom Capital.
"Deals like this are good for both sides," he said via email. "They give Japanese investors access to a broad diversity of investment opportunities in the U.S. and they help them to deploy capital outside of Japan efficiently. For U.S. businesses, it's simple, these deals provide them with needed capital to grow their platforms."
Looking abroad
Mitsui's investment is the latest in what has recently been a trickle of Japanese investment into U.S. real estate, something industry professionals said is set to grow as Japanese investors look to the United States as an attractive alternative to the low returns found in their country.
"The Japanese market has not grown the way Japanese investors would like," said Stephen Cheung, president of L.A.'s World Trade Center, which promotes international commerce. "No matter where you look, the U.S. has continually been the most reliable place for stable investments that generate a good yield."
Mitsui, a 70-year-old company with a market capitalization of about $26 billion, pinpointed the same assertion in its announcement of the CIM deal.
"In Japan, due to poor performance caused by lasting low interest rates, Japanese investors' capital is expected to flow increasingly into overseas real estate and infrastructure investments," the company said. "U.S. real estate (is) expected to remain as the largest and most attractive segment."
Los Angeles may have a particular allure for acquisitions, as property values here rise but remain lower than in other major cities such as New York and San Francisco.
Japanese companies put nearly $540 million into L.A. real estate in the last five years, according to data compiled by CBRE. The bulk belonged to a single megabuy: Aso Group's acquisition of the Spruce Goose hangar in Playa Vista, leased to Google, in December. A source close to the deal said the price ranged from $300 million to $320 million.
Past is prologue
The latest flurry of activity bears only a slight resemblance to the Japanese spending spree on L.A. real estate of the 1980s, when Japan's real estate grew into a bubble and investors sought to park money abroad. In an oft-cited example of Japanese zest for the L.A. market, Shuwa Investments Corp. purchased City National Plaza downtown for a record $650 million in 1986. That same year, Japanese companies wound up owning a quarter of the downtown office market across 16 towers.
The pop of Japan's bubble in the early 1990s plunged the country into recession, and Japanese companies pulled out of their high-profile U.S. real estate holdings, often selling them at a discount.
Industry observers say the new Japanese drive into U.S. real estate is very different.
"This is a new wave and a new type of investor," said Reid McKay, managing director at Tokyo-based asset manager Eastgate EGW, who represented Aso in the Spruce Goose deal.
Investors today are giant legacy corporations with diverse holdings, rather than smaller companies that were easily able to access cash and debt several decades ago, he said.
In addition to ASO and Mitsui, Mori Trust Co. Ltd., and Takenaka Corp. have spent heavily for U.S. real estate in recent months, McKay said. He added that Japan's Government Pension Investment Fund recently hired a well-respected acquisitions expert to target overseas deals.
"They're all highly respected groups that were not heavily involved in the last cycle of Japanese investment," McKay said.
He described Mitsui's partnership with CIM as a creative and smart move, particularly as competition intensifies for desirable U.S. assets.
"It's a very intelligent transaction, because Mitsui is trusting the local expertise of CIM," he said.
Building future
CIM was co-founded in 1994 by Shemesh, Shaul Kuba, and Richard Ressler, who are still company principals. The business grew to encompass five offices with 615 employees, and has developed millions of square feet of office, retail, residential, and hotel projects in big cities around the country.
Shemesh, 54, a native of Israel, runs CIM's daily operations and heads its investments group. Before launching CIM, he worked with Kuba, a friend from Israel, to co-found Dekel Development, a commercial and residential developer.
Kuba, 53, oversees CIM's development and redevelopment projects.
Ressler, 57, a former Drexel Burnham Lambert employee, is the founder of Orchard Capital, a private equity firm that invests in technology companies and is located in the same building as CIM. His wife, Alison Ressler, is a partner at Sullivan & Cromwell specializing in mergers and acquisitions, and his brother, Antony Ressler, is a co-founder of private equity giant Ares Management who ranked 42nd on the Business Journal's Wealthiest Angelenos list last year.
CIM has owned 60 properties in Los Angeles over the course of its history, according to its website. Its most prominent project under development is Sunset La Cienega, a pair of buildings on West Hollywood's Sunset Strip that will house apartments, a hotel, and retailers including Fred Segal.
Current holdings include the Hollywood & Highland Center; the former Farmers Insurance campus in Mid-Wilshire; and downtown's Two Cal Plaza, a 52-story office tower that is on the market. According to a source familiar with the downtown market, CIM is seeking roughly $400 a square foot for Two Cal Plaza, about $560 million.
The company also has holdings in San Francisco, Oakland, and New York, among other places.
Mitsui is poised to take a share of the equity CIM holds in a wide span of investments as well as in the investor returns on individual funds to which it contributes – a move that signals long-term faith in the company, said Sean Burton, chief executive at Westwood-based multifamily developer and investment manager CityView.
"It gives them great access to a future pipeline of opportunity," he said, adding that other Japanese investors might be eager to follow the lead of a respected company such as Mitsui.
For CIM, the only potential challenge could be loss of control.
"An investor who writes a check of that amount is going to want input into your growth and your strategy," Burton said. "That can be a big change for your firm to give a third party say into those kinds of decisions."
For reprint and licensing requests for this article, CLICK HERE.