Abrupt Exec Exit Leaves Satellite Business at Loss
INTERNET: Global Eagle's shares in tailspin in wake of quick departure of top brass.
Friday, February 24, 2017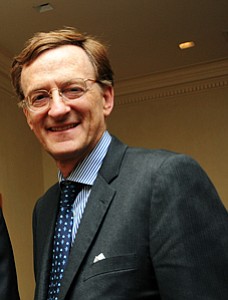 "We are optimistic on the potential benefit of combining these two companies and see clear strategic logic to scaling the satellite network," he wrote, "but are cautious on the investment merits because of the size of the acquisition coupled with how little we know about the acquired business."
Uncertainty arises
Investors became nervous last year after reports surfaced that Southwest was requesting quotes from rivals ViaSat and Panasonic. In the end, its contract with Global Eagle was extended in December to run until the end of 2025.
However, that news and the company's acknowledgment in an earnings call last year that other airlines were slow to sign, combined with the executive departures, slumping revenue, and issues with internal financial controls, have led some analysts to recommend investors take a step back from the company.
"We are moving to the sidelines on (Global Eagle) shares," Stan Meyers, senior research analyst at Piper Jaffray & Co. in New York, wrote in a Feb. 21 research note. "The company is quickly losing investor confidence with recent challenges with its key airline partner (Southwest), lack of progress with Air China and Air France, and now the departure of its CEO and CFO."
Yet despite some skittish investors, Global Eagle's largest shareholder, PAR Capital Management, had not changed its position after the company's executive departures, according to data from Bloomberg. The Boston investment fund, which has more than $8 billion under management, controls 29 million shares, 34 percent of the company. The value of its holdings fell $68.3 million for the trading week ended on Feb. 22. (See page 60.) PAR officials did not respond to a request for comment.
Company co-founder Jeff Sagansky, who left in January 2013 but still retains a seat on the board, is the largest individual shareholder, with a stake of nearly 750,000 shares. Sagansky, now chief executive of Double Eagle Acquisition Corp., a Century City blank check company formed in 2015, created Global Eagle when he structured the merger of Row 44 Inc. and Global Entertainment AG.
Sagansky did not respond to a request for comment.
For reprint and licensing requests for this article, CLICK HERE.
Prev Next