Abrupt Exec Exit Leaves Satellite Business at Loss
INTERNET: Global Eagle's shares in tailspin in wake of quick departure of top brass.
Friday, February 24, 2017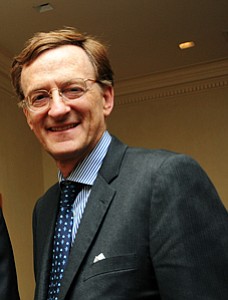 Shares of Global Eagle Entertainment Inc. plummeted 34 percent last week after the company's chief executive, Dave Davis, and its chief financial officer, Tom Severson, resigned abruptly on Feb. 20.
The departures came as the Marina del Rey satellite communications company announced it expected 2016 revenue to be at or near the low end of its prior guidance range of $530 million to $538 million and that it would need additional time to file its annual report with the Securities and Exchange Commission, according to a press release. The firm said it needed time to address "material weaknesses in internal control over its financial reporting."
Global Eagle acquired Emerging Markets, a satellite communications provider of internet to remote regions of the Earth – often to cruise ships at sea or oil rigs – for $550 million in cash and stock in July. That transaction was blamed for the delayed financial filing due to the combined company's size and complexity.
Company representatives did not respond to calls seeking comment, and no reason was given in its release for the departure of Davis and Severson.
Davis had gross compensation of $1.8 million in 2015, the last year for which statements have been filed. The last proxy statement, filed in April 2016, said Davis would have been eligible for a severance payment of nearly $1 million if he were terminated without cause.
Director Jeff Leddy was appointed chief executive on Feb. 21. Leddy previously served as chief executive of Verizon Telematics, formerly Hughes Telematics, a connected car developer that was purchased by Verizon in July 2012 for $612 million.
Global Eagle makes money by charging a fee to airlines for every device on a plane that connects to the internet.
With its heavy reliance on the airline business – Southwest Airlines accounted for 23 percent of revenue in 2015 – the addition of Emerging Markets was pitched by Davis to shareholders as a way to diversify Global Eagle's revenue streams, share infrastructure costs, and create opportunities to sell movies and TV entertainment on cruise ships. The combined operations of Global Eagle and Emerging Markets were projected to generate pro forma revenue of between $660 million and $690 million this year, according to financial filings.
Despite some notable upsides to the acquisition, the remote communications business is not well understood, Andrew Spinola, a senior analyst at Wells Fargo Securities in New York, wrote in a research note.
For reprint and licensing requests for this article, CLICK HERE.
Prev Next