Trump's Talk Makes It Tough to Sound Out Future
ECONOMY: LAEDC's team of forecasters put to test by stream of pronouncements.
Friday, February 17, 2017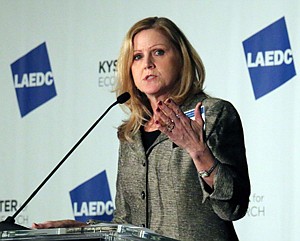 Keeping up with all the latest tweets, pronouncements, and executive orders from President Donald Trump is tough enough. But it's even tougher for an economic forecaster who has to sort through it all to figure out which ones are likely to impact the economy.
That's the challenge facing Christine Cooper and her team of up to six economists at the Los Angeles County Economic Development Corp. as they prepare to issue their annual economic forecast on Feb. 22 at the Omni Hotel downtown.
"This is undoubtedly a challenging time to make forecasts," said Cooper, who took over as the LAEDC's chief economist nearly a year ago and will be heading up the annual forecast for the first time.
While Cooper said the organization's forecast model is not ripped up every time Trump tweets, each statement must still be weighed, both for its likelihood to result in actual policy change and for that policy change's impact on the local economy.
The first order of business, she said, has been placing a probability on key statements and orders.
"Some things are more likely to happen than not, so we put an emphasis on those," said Cooper. "Then there are things that might happen but don't appear more likely than not to happen, and those might just get a mention in the forecast."
An increase in spending on roads, bridges, rail lines, airports, and water systems is viewed as more likely to happen, she said, since many members of Congress have also called for more such spending. Given that the county has many projects that are either shovel ready or have a local funding component already lined up, the local economic impact is likely to be significant and warrants inclusion in the forecast.
But even that is not certain, especially given Trump's statements that he might "defund" California if more communities declare themselves sanctuary cities for undocumented immigrants.
Cooper said her team is paying more attention to executive orders than statements or tweets. She noted that, so far, the executive orders are in line with promises Trump made during the campaign.
To figure out the scope and impact of an executive order or the likelihood of a Trump statement actually coming to pass, Cooper said her team reaches out to policy experts, political watchers, and others.
"We have to know the legalities of what he can do on his own and what he can't," she said. "If there's something we don't know, we have to go do some research, including talking to members of Congress and other experts."
Prev Next
For reprint and licensing requests for this article, CLICK HERE.