Pulsing Market
REAL ESTATE: Two medical properties pump up downtown.
Friday, February 17, 2017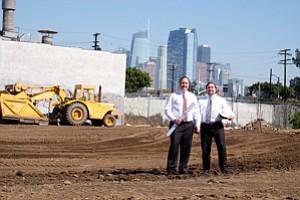 Two multimillion-dollar transactions are underway in downtown's medical-office market, a sector defined by low vacancy rates and long-term leases with creditworthy tenants.
Development partners Inception Property Group and Robhana Group Inc. said last week that they had signed health care company DaVita Inc. to lease their entire 60,000-square-foot spec project in Pico-Union near downtown. That deal came shortly after three bidders were named finalists for a 150,000-square-foot building nearby at the USC Health Sciences Campus being marketed by Charles Dunn Co. and Kennedy Wilson Inc. The price tag is hovering around $120 million, or $800 a square foot.
Luring investors is a medical office vacancy rate that has been falling since 2012 and hit 7.3 percent last quarter, according to Marcus & Millichap, half the traditional office vacancy rate of Los Angeles County in the same period.
"Supply is clearly not keeping up with demand," said John Smelter, senior director of Marcus & Millichap's health care real estate group. "The vacancies are going to continue coming down with demographic swings and because of the Affordable Care Act."
Just as the Pico-Union project broke ground last week, Inception and Robhana announced the DaVita deal.
"We had realized that it was such a medically underserved market and there were half-a-dozen providers looking to penetrate the market," said Peter Becronis, co-founder of Inception.
New construction, such as the one DaVita will lease at 1120 W. Washington Blvd., could end up valued at $1,000 a square foot, according to Fred Cordova, an executive vice president at Kennedy Wilson familiar with L.A.'s medical office market. The health care company will need to spend heavily on build-out, but saw the site as an ideal replacement for its aging HealthCare Partners urgent care center and outpatient clinic a mile away. DaVita, based in Denver, purchased HealthCare Partners for $4.42 billion in 2012.
"It had really great access, great visibility, and it will stand out when it's done in this part of town as being a marquee project," said Jim McPhail, DaVita's vice president for real estate and center development, of the planned Pico-Union property.
Healthy planning
Becronis said he and Inception co-founder Adam Matar hit on the medical office idea after they left Kaiser Permanente's real estate division in 2014.
"After being at Kaiser many years … we came to the conclusion that we really wanted to focus on the development aspect of real estate and to service medically underserved areas," Becronis said.
He and Matar initially launched separate companies, but Becronis said they eventually realized they should marry their efforts under one banner, creating downtown-based Inception last year.
From their time at Kaiser, they knew that Robhana, a downtown-based real estate investment firm, owned the roughly 3-acre plot on Washington, between Hoover Street and Union Avenue, that was home to a former Pep Boys building. Although Robhana had rejected offers from Kaiser to sell the site, it agreed to partner with Becronis and Matar to develop the property as a health care project, putting faith that high demand would eventually furnish a tenant.
DaVita's McPhail said the prospect of taking space from a new developer initially seemed risky. But he began to trust Inception during the design process, finding Becronis and Matar easily able to adapt to DaVita's needs.
"They partnered in a very dramatic fashion with us that allowed us to help shepherd the ins and outs of the design," McPhail said.

The goal is for the building to help patients have fast, calm, and efficient experiences. For example, separate back-of-house medical offices and patient areas are intended to help reduce disruptive cross-traffic within the building.
DaVita's current downtown home, built in the 1970s, is set to be sold to a mixed-use developer. McPhail said DaVita plans to move into the new space in spring 2018, with plans to stay put for at least 15 years. He estimated that the total construction cost for a medical building of this size would range between $6 million and $9 million. Robhana, which is arranging the financing, did not disclose the construction cost.
Prime pricing
The high cost of building medical office buildings typically yield high rents.
Kennedy Wilson's Cordova said the monthly rent will likely amount to $5.50 to $6 a square foot – on par with pricier traditional office markets in Beverly Hills and Santa Monica. He estimated that the Inception-Robhana building, when completed, could be worth as much as $1,000 a square foot, or $60 million.
Although Cordova sees demand in Los Angeles for new construction, he cautioned that careful design is just as important as delivering something new.
"I'm a big believer in the demand for it, but you have to put it in the right place, and it has to be the right sort of setup," he said. "The medical world is under constant pressure – cost pressure, and pressure to be more efficient and deliver more."
To John Pollock, chief operating officer of San Ramon-based health care developer Meridian, which has built sites for HealthCare Partners, finding the right location is essential. Health care providers typically want sites in highly trafficked retail zones where they can build brand awareness through prominent signage.
That's where Becronis, who Pollock said has "a lot of credibility in the industry," had a head-start in nabbing a tenant.
"It's really tough," he said. "If Peter and his team have a preferred site tied up, and they can deliver the building on the more desirable site, they'll get the assignment all day long."
For reprint and licensing requests for this article, CLICK HERE.