Homeboy's Desire for Revenue Generator Powered Recycler Acquisition
E-Waste Pickup
Friday, February 17, 2017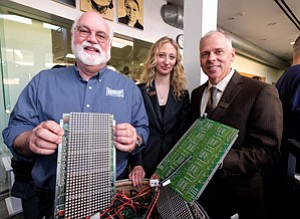 Homeboy Industries, a downtown gang rehabilitation and re-entry nonprofit, is out to prove it's not a charity case.
The group, founded by the Rev. Gregory Boyle in 1988 to help ex-gang members develop job skills, has acquired for-profit B Corporation Isidore Electronics Recycling for an undisclosed sum. The company, which processes electronics for reuse and recycling, will be rebranded as Homeboy Recycling.
Homeboy Industries Chief Executive
Tom Vozzo said the intent is to keep Homeboy Recycling a going concern while leveraging profits to support other parts of the organization.
"Expanding the business is important to our future success," Vozzo said. "Because we're 95 percent privately funded, we need to grow our business revenue in order to help more homeboys and homegirls going forward."
While Vozzo declined to disclose the financial terms of the deal, he said the purchase was financed by donations explicitly earmarked for this transaction.
"We're blessed with a lot of very generous donors, and over the years many have said that if we find a good business opportunity they'd be willing to put up more money to help acquire it," Vozzo said. "Through their help, we didn't have to use any existing Homeboy (Industries) funds (for the deal)."
Kabira Stokes, Isidore's founder and chief executive, said the Homeboy partnership almost happened much earlier.
"I actually talked to Father Boyle five years ago when I was starting the business," said Stokes, who plans to stay on and run Homeboy Recycling. "It's kind of come full circle."
Isidore overcame several challenges since its launch in 2012, including a warehouse fire and the departure of a co-founder. Located on the outskirts of Chinatown, the company has processed 2.2 million pounds of e-waste and employs 14 people, eight of whom are formerly incarcerated, according to Stokes.
Stokes said she sees the company as a second step for many of the convicts who go through Homeboy's job-training program, which helps train and support some 10,000 men and women every year.
The recycling business, however, will not have the job-training component of Homeboy Industries' other ventures.
"A lot of our current businesses are job-training programs, but we're not doing that with Homeboy Recycling," Vozzo said. "This will provide long-term jobs and be run as any for-profit business would."
While the recycling outfit is only a small part of Homeboy Industries' overall operation, the group is planning for growth. Vozzo said he wants to increase Homeboy Recycling's revenue by 40 percent in the first year. Stokes said that's an attainable goal given the parent's platform in Los Angeles.
While this foray into for-profit territory is new for Homeboy Industries, it's a venture Vozzo said he is confident will prove fruitful.
"Our workforce is as good as any, and one of our goals is to show that we can run a successful for-profit enterprise with it," he said.
Latham & Watkins advised Homeboy pro bono on the deal. Cypress was legal counsel for Isadore.
For reprint and licensing requests for this article, CLICK HERE.