Oscars Call on Businesses to Play Supporting Roles
ENTERTAINMENT: Local vendors boosted by awards include florists, chauffeurs.
Friday, February 10, 2017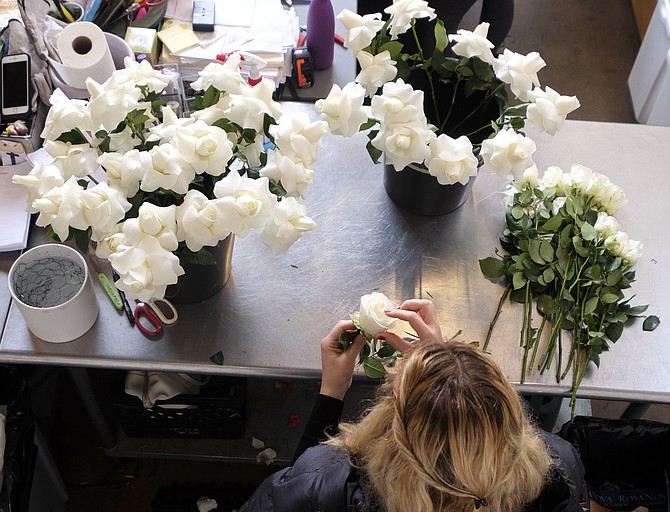 No matter which nominees come out on top at the Academy Awards, florist Eric Buterbaugh knows his business will be a winner.
Buterbaugh said his store in the Melrose shopping district might take in $200,000 or more in the days leading up to the Feb. 26 event, far more than his usual weekly revenue, though he wouldn't say how much that was.
"I love Oscar week," said Buterbaugh, a well-known floral designer to the stars. "It's one of my favorite times to be in this business."
Then as the congratulatory and thank-you bouquets go out the Monday after the awards, that can be one of his biggest days of the year.
"There are just flowers flying everywhere – it's like my Valentine's Day," he said.
Many other local businesses also boom during the Oscars.
"The Academy Awards alone generate more than $200 million in economic activity for L.A. County in a single year that supports florists, salons, caterers, stage managers, hotel employees – and draws tens of millions of eyes to the magic of Los Angeles," Mayor Eric Garcetti said in an e-mail.
An economic impact study commissioned in 2013 by the Academy of Motion Picture Arts and Sciences identified at least $67 million in "immediate, identifiable" benefits to the county from the Oscars.
The breakdown: $1.5 million from out-of-town visitors; $2 million for limousine rentals; $2 million associated with the wardrobe of women attendees; $26 million spent by the academy; $6 million associated with major Oscar parties; and $30 million in "multiplier effects," including $2 million in state and $1.7 million in local tax revenues.
The study revealed an additional potential boon, though much more speculative: If one-quarter of the estimated 40 million Oscar telecast viewers in 2013 visited Los Angeles as a result of seeing the event, an additional $149 million in local revenue would be generated, bringing the total benefit to more than $200 million in economic activity.
Ride to riches
Alex Darbahani, president and owner of KLS Worldwide Chauffeured Services, said his company brings in between $180,000 and $200,000 in Los Angeles during Oscar week alone.
For the Beverly Hills company, only the Grammy Awards represent higher revenue generation because the company has contracts with MasterCard and several other event sponsors. He wouldn't provide his company's annual revenue.
"Businesswise, it's great for Los Angeles," said Darbahani.
For Oscar day, KLS usually has between 180 and 230 vehicles servicing Academy Award-related clients, including some drivers contracted from smaller companies. Trips not only include airport transportation and rides to the awards, but also chauffeuring celebrities around town for gown and tuxedo fittings, jewelry pickups (many celebrities borrow their Oscar bling from top jewelers), beauty treatments, and ancillary trips for the stars' private stylists.
Prev Next
For reprint and licensing requests for this article, CLICK HERE.