Macy's Sells West L.A. Store for $50 Million, Signaling Possible Closure
Wednesday, February 8, 2017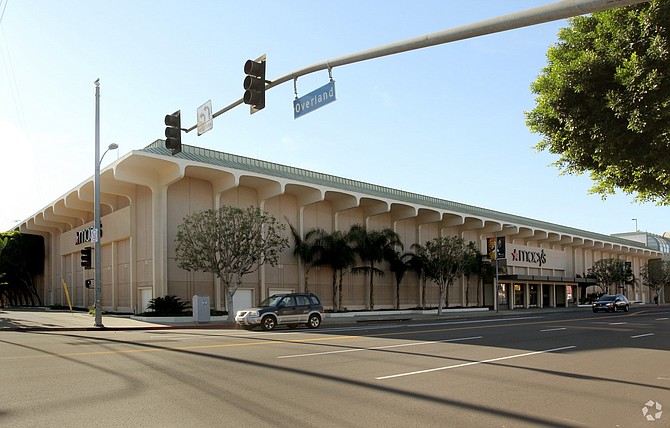 The recent sale of Macy's Inc.'s Westside Pavilion location in West Los Angeles has cast doubt on the store's future as the company progresses with plans to close about 100 retail sites nationwide.
The 220,000-square-foot building, which connects to Macerich Co.'s Westside Pavilion mall, sold last month to GPI Cos. for $50 million. Although the store was still open for business this week, the expansion of another nearby Macy's could bode ill for the store.
Macy's did not name the Westside Pavilion store, at 10730 W. Pico Blvd., nor any other L.A. locations on its list of sites that it announced last month it planned to close. It also didn't identify the location as one of a handful that were going to be sold and leased back.
Chuck DiGiovanna, Macy's senior vice president for real estate, would not comment Tuesday.
Less than two miles away, Macy's is planning to expand its store at Westfield Century City after the mall completes its $800 million renovation, with an opening slated for spring. Local retail real estate experts are scratching their heads at the wisdom of keeping the Pico location open, especially because its fortress-like design is out of vogue.

"I would say with confidence that they don't need this location because the Century City location is huge," said Gabe Kadosh, a vice president for retail services at Colliers International, who was not involved with the sale.
For now, with Macy's still in operation on Pico, he expected that it had negotiated a lease-back for the 220,000-square-foot building.
Cliff Goldstein, GPI's managing partner, said he could not comment on the transaction or plans for the Macy's site.
Based in Brentwood, GPI targets value-add acquisitions in retail, multifamily, office, and mixed-use sectors. In 2015 it purchased the Amoeba Music store in Hollywood for $34 million and drew ire from Amoeba fans when it filed an application for entitlements that would allow residential development on the site. GPI's exact plans are still unclear.
If Macy's on Pico closes, it would be the first in Los Angeles to turn out the lights since the struggling retailer announced plans to shutter stores last August. The only other Southern California sites getting the ax are in San Diego, Simi Valley, and Santa Barbara.
A store employee reached by phone Tuesday said he had no knowledge of plans to close the store this year.
That Macy's location may lend itself to redevelopment as a retail site or office, but would require a great deal of work to bring it in line with current trends.
Meanwhile, Macerich is in the midst of planning a Westside Pavilion makeover, according to local community leaders. Macerich did not respond to a request for comment, but said last March that it was "in the planning process."
Macerich was considering a plan at the time to tear away the bunkerlike walls that separate the front of the mall from Pico Boulevard and expose the ground-level shops to the street. The Santa Monica-based landlord did a $265 million makeover of Santa Monica Place in 2010.
For reprint and licensing requests for this article, CLICK HERE.