Gold Rush
Producers of the nine films nominated for Best Picture look to reap the Academy Award bonanza
Friday, February 3, 2017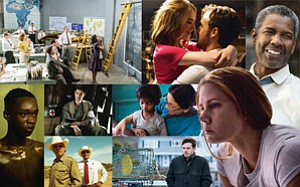 Arrival
PRODUCERS: Dan Levine, Shawn Levy, David Linde
STARS: Amy Adams, Jeremy Renner, Forest Whitaker
STUDIO: Paramount Pictures
BUDGET: $47 million
GLOBAL BOX OFFICE*: $146 million
THE MONEY: Independent financiers FilmNation and LavaBear funded the film, which topped $100 million in global box office in just one month. Screenwriter Eric Heisserer received the Writers Guild of America minimum of around $100,000 for his screenplay, but got an executive producer credit.
SUMMARY: An expert linguist leads a team of scientists desperate to communicate with alien visitors.
NOMINATIONS: 8
AWARDS: American Film Institute Movie of the Year
OSCAR BUZZ: Few critics believe "Arrival" can stand up to favorites "La La Land" and "Moonlight," but best actress nominee Adams might sneak away with a win.
Fences
PRODUCERS: Todd Black, Scott Rudin, Denzel Washington
STARS: Washington, Viola Davis, Mykelti Williamson
STUDIO: Paramount Pictures
BUDGET: $24 million
GLOBAL BOX OFFICE*: $49 million (U.S. only)
THE MONEY: Canadian money is behind this American story. Wells Asset Management, based in Lloydminster, Alberta, jumped into the movie biz to provide some of the financing, which President Dale Wells called a no-brainer.
SUMMARY: Adapted from August Wilson's Pulitzer Prize-winning play set in the 1950s, an embittered sanitation worker denied his chance at becoming a pro baseball player discourages his son's football career.
NOMINATIONS: 4
AWARDS: 1 Golden Globe, 2 Screen Actors Guild
OSCAR BUZZ: Perhaps because of its theater roots, this one gets more buzz for actor awards than its best picture chances.
Hacksaw Ridge
PRODUCERS: Bill Mechanic, David Permut, Terry Benedict
STARS: Andrew Garfield, Vince Vaughn, Sam Worthington
STUDIO: Lions Gate
BUDGET: $40 million
GLOBAL BOX OFFICE*: $149 million
THE MONEY: Permut has said it took WWII story "Hacksaw Ridge," directed by Mel Gibson, 16 years to make it to the screen. It was funded in part by Kylin Pictures International, which has financed many Asian productions.
SUMMARY: The true story of medic Desmond T. Doss, the first conscientious objector to win the Congressional Medal of Honor for saving soldiers during the Battle of Okinawa.
NOMINATIONS: 6
AWARDS: 11 Australian Film Institute
OSCAR BUZZ: Between mixed reviews and the unpopularity of director Gibson with the Hollywood community, this one's a long shot for best picture.
Hell or High Water
PRODUCERS: Peter Berg, Carla Hacken, Sidney Kimmel, Julie Yorn
STARS: Ben Foster, Chris Pine, Jeff Bridges
STUDIO: Lions Gate, CBS Films
BUDGET: $12 million
GLOBAL BOX OFFICE*: $27 million
THE MONEY: Sidney Kimmel Entertainment, where Hacken is president of production, purchased the script in 2012, and this nomination should help step up its position in the independent film scene.
SUMMARY: Two brothers make an unlikely pair of bank robbers as they take desperate measures to save the family ranch.
NOMINATIONS: 4
AWARDS: Best supporting actor, National Board of Review
OSCAR BUZZ: Before the Oscar nominations, Gold Derby's Oscar handicaps ranked "Hell or High Water" eighth out of nine as a possible best picture winner. Some critics called it the best movie of the summer.
Hidden Figures
PRODUCERS: Peter Chernin, Donna Gigliotti, Theodore Melfi, Jenno Topping, Pharrell Williams
STARS: Taraji P. Henson, Octavia Spencer, Janelle Monae, Kevin Costner
STUDIO: 20th Century Fox (Fox 2000)
BUDGET: $25 million
GLOBAL BOX OFFICE*: $107 million
THE MONEY: Gigliotti optioned Margot Lee Shetterly's book proposal in 2014. The filmmakers and crowdfunding efforts paid for free screenings in additional theaters.
SUMMARY: Based on a true story, NASA taps a group of female African-American mathematicians to calculate John Glenn's historic launch into orbit.
NOMINATIONS: 3
AWARDS: Screen Actors Guild ensemble award
OSCAR BUZZ: The box office shows it's a crowd favorite, and "Hidden Figures" snagged SAG's equivalent of best picture with its cast win.
La La Land
PRODUCERS: Marc Platt, Jordan Horowitz, Gary Gilbert, Fred Berger
STARS: Emma Stone, Ryan Gosling
STUDIO: Lions Gate
BUDGET: $30 million
GLOBAL BOX OFFICE*: $224 million
THE MONEY: Lions Gate said yes to this project when others said no, and the studio is reaping the benefits. Still to come: A run on HBO, more international markets including China, the movie soundtrack, and rumors of a stage musical.
SUMMARY: In this contemporary musical with a nod to classic Hollywood, an aspiring actress and a jazz musician fall in love.
NOMINATIONS: 14
AWARDS: 7 Golden Globes
OSCAR BUZZ: It's the one to beat, even without winning the all-important Screen Actors Guild cast award. Hollywood loves Hollywood.
Lion
PRODUCERS: Iain Canning, Angie Fielder, Emile Sherman
STARS: Dev Patel, Rooney Mara, Nicole Kidman
STUDIO: Weinstein Co.
BUDGET: $12 million
GLOBAL BOX OFFICE*: $34 million
THE MONEY: Weinstein paid $12 million for worldwide distribution rights to the movie, co-financed by Film Australia (Weinstein's deal excludes Australia and New Zealand).
SUMMARY: An Indian boy adopted by an Australian couple uses Google Earth to search for his birth family as an adult.
NUMBER OF NOMINATIONS: 6
AWARDS: Various film festivals.
OSCAR BUZZ: Weinstein has a history of aggressive (read: expensive) campaigns that take small movies to big Oscar wins, but this one seems to be getting drowned out by "La La Land," and "Moonlight" has the buzz for the little movie with a chance for an upset.
Manchester By the Sea
PRODUCERS: Lauren Beck, Matt Damon, Chris Moore, Kimberly Steward
STARS: Casey Affleck, Michelle Williams,
Kyle Chandler, Lucas Hedges
STUDIO: Roadside Attractions, Amazon Studios
BUDGET: $8.5 million
GLOBAL BOX OFFICE*: $43 million
THE MONEY: Producer Steward, the second black woman to be nominated for a producer Academy Award, financed the project through her new company, K Period Films. Amazon paid $10 million for distribution rights.
SUMMARY: An uncle faces family demons as he returns home to care for his nephew after his brother dies.
NUMBER OF NOMINATIONS: 6
AWARDS: 1 Golden Globe
OSCAR BUZZ: Some Oscar watchers say it's the stiffest competition for "La La Land"; others say it might only win actor awards for Affleck or Williams.
Moonlight
PRODUCERS: Dede Gardner, Jeremy Kleiner, Adele Romanski
STARS: Mahershala Ali, Shariff Earp, Duan Sanderson
STUDIO: A24
BUDGET: $5 million
GLOBAL BOX OFFICE*: $18 million (U.S. only)
THE MONEY: The producers stand to profit, as the smaller the film, the bigger the box-office boost from nominations that make the public more aware of a movie.
SUMMARY: Based on Tarell Alvin McCraney's play "In Moonlight Black Boys Look Blue," the story of a young man growing up in Miami and coming to terms with his homosexuality.
NUMBER OF NOMINATIONS: 8
AWARDS: 1 Golden Globe, 1 Screen Actors Guild
OSCAR BUZZ: With loads of critical acclaim and a Screen Actors Guild supporting award for star Ali, some critics say "Moonlight" still has a chance to win best picture.
For reprint and licensing requests for this article, CLICK HERE.