Gold Rush
Producers of the nine films nominated for Best Picture look to reap the Academy Award bonanza
Friday, February 3, 2017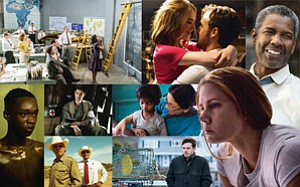 Arrival
PRODUCERS: Dan Levine, Shawn Levy, David Linde
STARS: Amy Adams, Jeremy Renner, Forest Whitaker
STUDIO: Paramount Pictures
BUDGET: $47 million
GLOBAL BOX OFFICE*: $146 million
THE MONEY: Independent financiers FilmNation and LavaBear funded the film, which topped $100 million in global box office in just one month. Screenwriter Eric Heisserer received the Writers Guild of America minimum of around $100,000 for his screenplay, but got an executive producer credit.
SUMMARY: An expert linguist leads a team of scientists desperate to communicate with alien visitors.
NOMINATIONS: 8
AWARDS: American Film Institute Movie of the Year
OSCAR BUZZ: Few critics believe "Arrival" can stand up to favorites "La La Land" and "Moonlight," but best actress nominee Adams might sneak away with a win.
Fences
PRODUCERS: Todd Black, Scott Rudin, Denzel Washington
STARS: Washington, Viola Davis, Mykelti Williamson
STUDIO: Paramount Pictures
BUDGET: $24 million
GLOBAL BOX OFFICE*: $49 million (U.S. only)
THE MONEY: Canadian money is behind this American story. Wells Asset Management, based in Lloydminster, Alberta, jumped into the movie biz to provide some of the financing, which President Dale Wells called a no-brainer.
SUMMARY: Adapted from August Wilson's Pulitzer Prize-winning play set in the 1950s, an embittered sanitation worker denied his chance at becoming a pro baseball player discourages his son's football career.
NOMINATIONS: 4
AWARDS: 1 Golden Globe, 2 Screen Actors Guild
OSCAR BUZZ: Perhaps because of its theater roots, this one gets more buzz for actor awards than its best picture chances.
Hacksaw Ridge
PRODUCERS: Bill Mechanic, David Permut, Terry Benedict
STARS: Andrew Garfield, Vince Vaughn, Sam Worthington
STUDIO: Lions Gate
BUDGET: $40 million
GLOBAL BOX OFFICE*: $149 million
THE MONEY: Permut has said it took WWII story "Hacksaw Ridge," directed by Mel Gibson, 16 years to make it to the screen. It was funded in part by Kylin Pictures International, which has financed many Asian productions.
SUMMARY: The true story of medic Desmond T. Doss, the first conscientious objector to win the Congressional Medal of Honor for saving soldiers during the Battle of Okinawa.
NOMINATIONS: 6
AWARDS: 11 Australian Film Institute
OSCAR BUZZ: Between mixed reviews and the unpopularity of director Gibson with the Hollywood community, this one's a long shot for best picture.
Hell or High Water
PRODUCERS: Peter Berg, Carla Hacken, Sidney Kimmel, Julie Yorn
STARS: Ben Foster, Chris Pine, Jeff Bridges
STUDIO: Lions Gate, CBS Films
BUDGET: $12 million
GLOBAL BOX OFFICE*: $27 million
For reprint and licensing requests for this article, CLICK HERE.
Prev Next