Chinese Developer Builds Up Presence Downtown
REAL ESTATE: Oceanwide Plaza could set template for company's projects in U.S.
Friday, February 3, 2017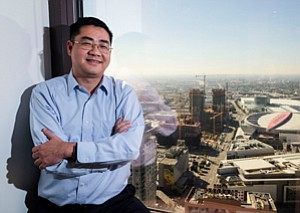 Thomas Feng moved to downtown Los Angeles from China three years ago to spearhead the $1 billion construction of Oceanwide Plaza, a luxury condo project across from Staples Center. The project will be anchored by a Park Hyatt hotel and more than 1 million square feet of retail space. It is the first U.S. project for Beijing-based Oceanwide Holdings Co. Ltd., and could be a major test for the company as it embarks on mixed-use projects in New York and San Francisco. Speaking to the Business Journal via an interpreter, Feng, the project's chief executive, talked about his long-term faith in downtown at Oceanwide's high-rise office overlooking the project site.
Why downtown Los Angeles?
We look at communities that are the fastest growing and have the highest potential. For L.A., South Park is the heart of downtown. The whole urbanization of large metro cities is a trend that may last 20 to 30 years. There are two major indicators: Family structure in the U.S. is slightly changing. And consumer behaviors are transforming.
Are you concerned about the competition from projects such as Greenland USA's Metropolis condos and hotel, and Korean Air's hotel at the Wilshire Grand Tower?
There's a lot in the pipeline, but there is limited land mass downtown. There won't be so much more in the coming years. Part of success is: How do you differentiate yourself? Consumers are smart. You have to find that point of what can be attractive to your target. As long as you capture the major offerings that your target buyers want, it will be successful.
Who do you anticipate will be your condo buyers?
Although we're a Chinese company, we're trying to Americanize. The projects and the condos that we're trying to design and build are really suited and fitted to the L.A. lifestyle. Primarily our target audience is local people. Of course, we will have buyers from China. We're not going to exclude them.
How is developing here different from developing in China?
In China, the government holds more authority. The decisions are all made in local governments. In the U.S., you need to interact more with the residents, the people that live in the community. The public voice has a lot more weight. And, of course, the laws and regulations are very new to a lot of the Chinese developers. It takes some time to learn the steps. But our challenges didn't generate because we're from China. The biggest challenge for us is having a better understanding of where the market is going.
Where do you see Chinese investment in U.S. real estate headed?
The U.S. advantage is that they are open to outside investors. For Oceanwide, we see two types of focus: mixed-use projects in major cities and resorts. Would we change our angle? It really depends on the market. For example, we're not going to do a mixed-use project on this scale in Hawaii. It's driven by what the market calls for.
Does the Chinese government's restriction on capital outflows affect Oceanwide?
It has not. When we do financing, a lot of our capital doesn't come from China. It comes from everywhere, and it's in U.S. dollars already. The Chinese government is more concerned about currency and cash flow of what's left in China. The only thing that may influence us is the individual condominium buyers.
Tell me about the project's financing. Why only include 20 percent of funding through the EB-5 Immigrant Investor Program?
We wanted to have a diverse finance portfolio, with EB-5 being part of the mixture, but not a lot. The overall finance plan is to have credibility to have international relationships.
What is your reaction to the economic climate under President Trump?
This project could potentially create 7,000 to 9,000 jobs. So, President Donald Trump should be very happy about our project.
For reprint and licensing requests for this article, CLICK HERE.