Big Cargo Move
Long Beach port hopes Middle Terminal stacks up with megaships.
Friday, February 3, 2017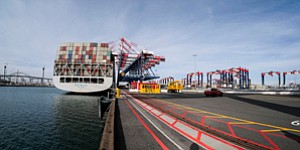 The Port of Long Beach is hoping to turn the shipping company consolidations that have played a role in the industry's turmoil in recent months to an advantage as it moves to complete construction of a massive terminal.
When the $1.3 billion Middle Harbor project is completed in 2020, the port will have a huge and largely automated terminal capable of simultaneously handling three of the new generation of super large container ships that are expected to be the future of cargo movement.
The shipping industry is awash with more vessels than can be filled, and that oversupply has led to a downturn that has forced many companies to consolidate. That, in turn, has prompted companies to embrace fewer but much larger cargo ships. The Middle Harbor project will make Long Beach one of the few ports in North America capable of handling such megaships, and port and shipping industry officials said that will give it a competitive advantage in the scramble among those ports over global trade.
"Fewer global shipping lines means fewer ships, and fewer ships mean those remaining ships must be larger," said Noel Hacegaba, chief commercial and operations officer for the Port of Long Beach. "Larger ships, with their lower per-container cost, are much more efficient, and that will mean a great advantage for our port when the Middle Harbor project is completed."
The Middle Harbor terminal will be able to handle container ships carry up to 21,000 20-foot container units, the maximum capacity of the largest megaships now planned. It is replacing two smaller terminals, consolidating facilities that at their peak handled roughly 1 million 20-foot containers a year into a largely automated super terminal capable of handling 3.3 million containers.
The first phase of construction, on the northern half of the 300-acre parcel, wrapped up roughly one year ago: The portion of the terminal on that parcel is being operated by Orient Overseas Container Line of Hong Kong, which signed a 40-year, $4.6 billion lease with the port for the entire parcel. The first ships called at the terminal in the summer. Construction is expected to start soon on the southern half of the parcel.
The project also includes construction of an expanded on-dock rail yard, connections for ship-to-shore electrical hookups to eliminate diesel emissions when ships dock, and partially automated cranes.
Although most of the other five terminals at the port can also handle some of the larger container vessels, the Middle Harbor terminal will be the most fully equipped and energy-efficient terminal able to accommodate megaships.
Prev Next
For reprint and licensing requests for this article, CLICK HERE.