Can Guitar Center Find New Rhythm?
RETAIL: Ares' portfolio company's debt downgraded
Friday, December 29, 2017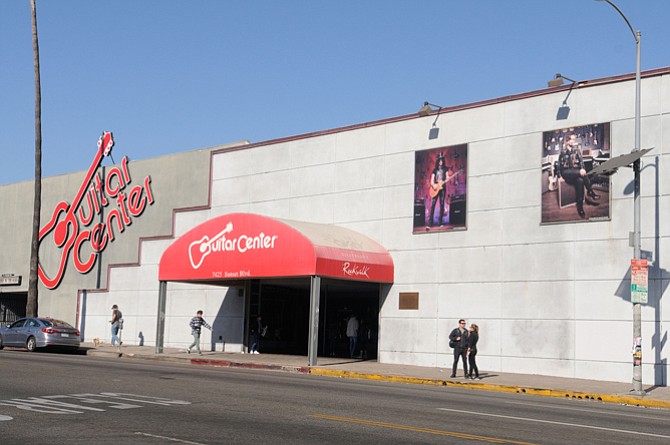 The bill is coming due for the country's largest musical instrument retailer – and a couple of credit rating agencies are worried about its ability to pay.
Analysts at Moody's Investors Services and S&P Global Ratings recently downgraded the credit rating for Westlake Village-based Guitar Center Inc., owned by alternative asset manager Ares Management in Century City.
Keith Foley, senior vice president of the corporate finance group at Moody's, said the fact that Ares hasn't yet refinanced $615 million in loans that are due in April 2019 prompted the downgrade from his firm.
Guitar Center carries about $1 billion in debt overall, according to Moody's.
Sales at its more than 260 stores and online are estimated in the $1.5 billion to $2 billion range. It seems that there's not enough profit in those sales – even at the high end – to cover the costs of its debt.
"I don't want to say that they won't or can't refinance," said Foley, but "the pressure to refinance becomes greater when you wait."
A spokeswoman for Guitar Center declined to comment.
A representative from Ares didn't respond to a request for comment.
Some of Guitar Center's debt stems from its leveraged buyout by Boston-based private equity firm Bain Capital in 2007, but some also predates that deal.
Guitar Center's problems appear to be both self-inflicted and a case of rugged market conditions, including increased competition in the musical instrument category and the difficult environment for retailers in general.
Stringing the guitar
Guitar Center began when its founder Wayne Mitchell bought a small home appliance and organ store in Hollywood in 1959. The company was originally called the Organ Center, but soon capitalized on the growing popularity of rock and roll by turning its focus to selling guitars and amplifiers. It was renamed Guitar Center in 1964.
It grew slowly over the next couple of decades, reaching 12 locations by 1985, according to the company's website. That year, it moved into its 18,000-square foot-flagship store on Sunset Boulevard in Hollywood, which it still operates.
Guitar Center embarked on a new period of expansion in the 1990s, during which it opened 70 stores and became a publicly traded company.
It began a series of acquisitions in 1999, when it bought the Medford, Ore.-based mail-order and ecommerce retailer Musicians Friend Inc., which it continues to operate as a separate brand. The company bought at least four more competitors during the following decade, which helped grow its store count.
It may have expanded too quickly, said Norman Harris, owner of Normans Rare Guitars in Tarzana, which has attracted rock stars since he founded it in 1975.
"Initially, they were going into major markets," said Harris. "Then they got to the point where they were going into minor markets. Some worked; some did not work out."
Bain Capital took the company private in a 2007 leveraged buyout for $2.1 billion, including debt.
Tuning up
Sales at Guitar Center declined, prompting S&P to downgrade its rating in 2013.
The company wasn't alone in its struggles. Scottsdale, Ariz.'s guitar maker Fender Musical Instruments Corp., which sells its instruments through retailers including Guitar Center, decided not to go through with a planned initial public offering in 2012. Its chief executive said in a statement at the time that market conditions had lessened the company's valuation.

Discount retailers including Wal-Mart Stores Inc. began offering cheaper versions of popular instruments at about the same time, according to IbisWorld.
An electric Fender guitar can easily sell for more than $1,000, whereas a recent search on Wal-Mart Stores Inc.'s website showed electric guitars for less than $200.
Another major instrument manufacturer, Nashville, Tenn.'s Gibson Brands Inc., also received a downgrade from Moody's earlier this year. Moody's said the company's outlook was negative, noting that it had $375 million in senior secured notes due in 2018.
Ecommerce continues to up the competition for Guitar Center and other instrument sellers, as it has in other segments of the retail industry, analysts said.
Some musicians are turning to Fort Wayne, Ind. ecommerce business Sweetwater Sound Inc., which Ibis estimated has a 3 percent market share of the musical instrument retail business. The company, which launched its website in 1995, offers free shipping.
Performance time
Bain sold Guitar Center to Ares Management in 2014 in a deal that reduced the company's debt by about $500 million and cut its annual cash interest expense by more than $70 million, according to a Guitar Center press release at the time.
Guitar Center's revenue has remained essentially stagnant since 2012, according to Ibis.
Moody's estimated that the company would generate operating profits for the next 18 months, but nothing near where it could pay off its debt, Foley said.
Norman said that Guitar Center's fate could affect the whole musical instrument industry, noting that Fender and Gibson both sell their instruments through the retailer.
"One (company) feeds off the other," he said.
For reprint and licensing requests for this article, CLICK HERE.