Military Demand for Drones Drive Profit
Monrovia's AeroVironment sees uptick in orders for combat model
Friday, December 15, 2017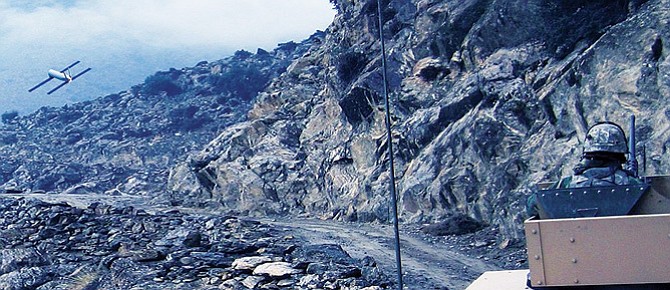 Military drone maker AeroVironment Inc.'s stock rose 26 percent to $54.47 a share – an all-time high – on Dec. 6 after the company posted strong quarterly sales and profits driven partly by U.S. military demand for its kamikaze drone, named the Switchblade.
The run up pushed the Monrovia-based company's market capitalization well over $1 billion, a level it held as last week drew to a close.
Its revenue for fiscal second-quarter 2018 was $73.8 million, marking a 47 percent year-over-year increase. The majority of that growth was driven by drone sales, which surged 56.7 percent year-over-year to $64 million. Net income for AeroVironment rose to $7 million, up year-over-year from a net loss of $4.2 million.
Demand for the Switchblade has increased in parallel with U.S. combat operations in Iraq and Afghanistan, the company has said. The model's sales have grown from $6 million in fiscal year 2011 to more than $75 million in revenue in fiscal 2017, the company disclosed on a prior earnings call.
"Half (of that revenue) was for Switchblade and half for customer R&D for Switchblade variants," said analyst Joseph DeNardi, managing director with Stifel Nicolaus in Baltimore.
Military customers are finding new uses for the Swithblade, including a version supplied to the U.S. Navy last year that is shot out of a submarine and flown as a throw-away communications and surveillance platform, Stifel added.
The killer drone is prized for adding precision firepower to the arsenal carried by military personnel on the ground, said Steve Gitlin, AeroVironment's vice president of corporate strategy, in an email.
"Its size, weight and resulting portability mean Switchblade can be carried in a backpack by troops facing lethal threats, and deployed rapidly to neutralize those threats, while minimizing collateral damage," he said.
The Switchblade doesn't come cheap. DeNardi estimates that the drone, which can carry a grenade-sized munition, costs about $100,000.
The military is willing to pay a premium for the tactical missile because it performs better than the alternatives, such as mortar rounds or artillery in certain situations.
"Relative to a mortar round it offers much smarter capabilities," DeNardi said, noting the drone's ability to abort a mission after being launched. "You can wave it off."
Foreign sales
AeroVironment's legacy drones, including propeller-driven fixed-winged drones Raven, Puma AE and Wasp AE continue to be popular products for foreign militaries, said Gitlin of AeroVironment.
"Small military teams must operate flexibly and effectively in a wide variety of theaters around the globe," said Gitlin. "In this environment, organic intelligence surveillance and reconnaissance like our small UAS offer game-changing capabilities that help troops obtain the actionable intelligence they need to act decisively and proceed with certainty."
A large and increasing number of the firm's foreign customers have chosen the Puma AE, a hand-launched aircraft with a rotating camera slung under its belly that can fly for more than 3.5 hours, Chief Executive Wahid Nawabi said in an earnings call. More than 40 nations use AeroVironment's drone, added Gitlin, though he declined to disclose which countries, citing non-disclosure agreements.
Demand from international customers and the U.S. military is contributing to a growing backlog for AeroVironment. The company's unfilled orders amount to $127 million, as of Oct. 28. That is a 62.8 percent increase in backorders from six months prior.
The company said it has "flexible" capacity at its manufacturing facilities in Simi Valley, and can handle the recent surge in orders there.
The company expects to generate revenue of between $280 million and $300 million for fiscal year 2018, a six percent increase from this year if they reach the lower end of the projection.
For reprint and licensing requests for this article, CLICK HERE.