Fertile Ground
Friday, December 15, 2017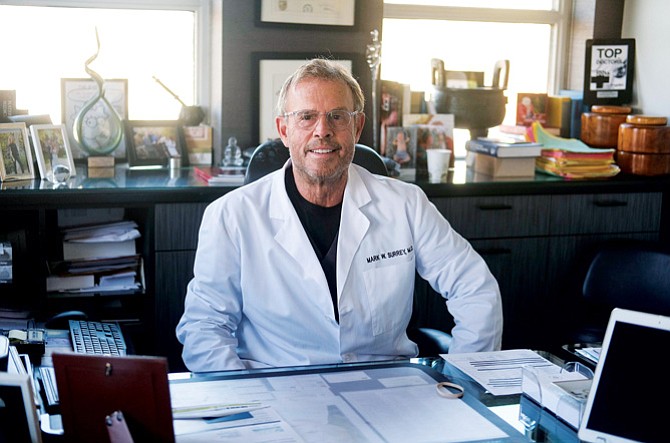 One of the best-known fertility centers in Beverly Hills is bursting at the seams with hopeful moms and dads, many of them from China.
The Southern California Reproductive Center, long a go-to hub for Hollywood stars and well-heeled couples seeking to have children, in the past two years has seen a nearly 1,000 percent spike in international clients for some fertility services.
"It should be bigger, but we've run into some bandwidth problems," said Kyle Francis, chief executive of the center known as SCRC. "We just can't handle them all."
Not yet – but SCRC just spent $7 million to upgrade its boutique fertility service center at Roxbury Drive and South Santa Monica Boulevard, and now it's recruiting physicians and is poised to expand again thanks in part to the crush of clients from overseas.
The center also has hired a half-dozen translators who speak both Mandarin and Cantonese to handle the influx.
Other reproductive clinics across the region are seeing a spike in so-called medical tourism from China, where the fertility rate has fallen sharply, analysts said.
China abolished a decades-old and long-controversial one-child-per-couple policy instituted as a population control measure in order to populate what is now a diminishing labor force. The shift has led numerous couples well into middle age to try for a second child, and many face struggles.
Most would-be Chinese parents, however, don't have access to legal egg donors, legal third-party surrogates or the latest in fertility technology, such as egg freezing.
So those with money are flocking to the U.S. and Europe for top fertility care.
HRC Fertility, based in Newport Beach with offices in Encino and Pasadena, saw a 30 percent to 35 percent increase in growth last year, with a 40 percent jump in international patients, mostly from Asia.
"We are definitely seeing more of an international group that's coming in for this procedure," said Dr. Jane Frederick, founder and chief executive of HRC, and a pioneer in semen and embryo freezing. "China has a huge increase in business professionals."
Reproductive referrals
Businesses in China that link potential patients to medical services in the U.S. and elsewhere have reported a surge in fertility-clinic referrals.
Global Q, a Beijing-based telemedicine company with an office in Pasadena, specializes in such medical tourism. Of its 20,000 internet visitors a day inquiring about health care overseas, 25 percent ask about fertility services such as in vitro fertilization, or IVF, officials said.
Global Q Chief Executive Jacy Zhao said many clients want medical help bearing sons, and often chafe against the long waits in China, where few fertility clinics are available to meet the high demand.
Many are willing to pay cash here.
"When they come to the L.A. area they pay out of pocket," Zhao said through an interpreter. "I estimate the total Chinese women seeking IVF treatment in the U.S. to be 1,000 to 2,000 a year."
Zhao said the rollback of the one-child policy is a big factor in the boost, with older couples seeking out fertility services.
"More importantly, some couples are not of child-bearing age, because of the one-child policy," she said. "So some couples who are not of childbearing age now have an opportunity to have a second child."
Analysts expect the global fertility services market to grow from an estimated $13.5 billion in 2015 to more than $21 billion by 2020, according to TechNavio, a market research company based in London.
The 55-percent growth is attributed to a global rise in infertility and advancements made in assisted reproductive technology, analyst Amber Chourasia said in an email.
The fertility services market in the U.S. is expected to reach $5 billion by 2021, she said, with treatments such as IVF comprising an estimated 65 percent of the market.
Growing up
Dr. Mark Surrey co-founded SCRC nearly two decades ago with a goal to provide the most innovative fertility treatments. The center started in 1999 in a rented one-floor office in a Beverly Hills high-rise – and that was too much room, according to Surrey.
The reproductive center now occupies two floors and provides a wide range of fertility services, including in vitro fertilization, egg freezing and third-party surrogacy.
The physician-owned practice serves more than 2,000 patients a year for fertility and gynecological services at main offices in Beverly Hills and Santa Barbara, plus seven smaller clinics from Bakersfield to Santa Monica.
SCRC employs seven reproductive endocrinologists – physicians who specialize in fertility – up from four a few years ago. It also employs 140 fertility technicians and other workers who operate two laboratories, an in-house surgery center, and a warren of exam, ultrasound, hormone testing, sperm collection and fertility-related service suites.
"I'm most pleased with our results," said Surrey, who acts as SCRC's medical director. "We have some of the best (results) in the world. We've had royalty trying to get an heir to the throne."
He declined to give any details on royal visits to the center.
The private company also declined to disclose its revenue, but it costs patients roughly $7,700 for egg freezing, $21,000 for in vitro fertilization and between $3,000 and $5,000 for fertility enhancing medications.
Since Francis signed on three years ago as chief executive, SCRC has seen 20 percent year-over-year growth, he said.
Much of the recent growth can be attributed to Chinese and other international clients who come to the U.S. for treatment. The center was once lucky to see three international patients a month for IVF. Now it sees 30, Francis said. One in five patients overall now comes from overseas.
The center works in conjunction with UCLA and Cedars-Sinai and is recruiting three more fertility doctors for 2018, while expanding its Beverly Hills center by 7,000 square feet, including a new lobby on the ground floor.
"We think the pie is just going to continue to grow, as fertility becomes more accessible" Francis said. "More docs by 2018, and new labs opening across Southern California."
For reprint and licensing requests for this article, CLICK HERE.