Pasadena-based Arrowhead Pharmaceuticals Narrows Year-End Loss
Wednesday, December 13, 2017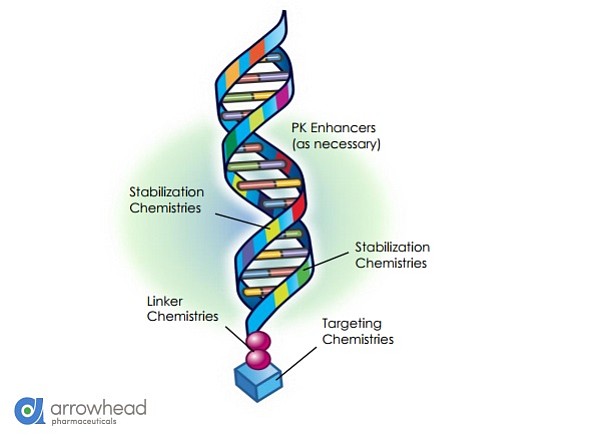 Arrowhead Pharmaceuticals Inc., which develops drugs to treat stubborn diseases by silencing the genes that cause them, reported a fiscal 2017 year-end loss of $34 million compared with 87.7 million in red ink a year earlier.
The narrowed loss came on a $31.2 million year-over-year gain in revenue The Pasadena-based firm reported late Tuesday that in the 12 months ending Sept. 30, its revenue was $31.4 million compared to $158,000 during the same period last year.
It posted a yearly net loss of $34.3 million (47 cents a share), compared with $87.7 million (1.34 cents a share) the prior year.
Arrowhead acquired Novartis AG's RNAi assets two years ago for $35 million in cash and stock to bolster its position in a field of gene therapy known as ribonucleic acid interference (RNAi), which aims to silence certain genes in order to stop the production of proteins that cause hepatitis B and other idiseases.
The 28-year-old firm last year sold a 4.5 percent equity stake to Amgen Inc. of Thousand Oaks for $35 million up front, plus a $21.5 million injection, with the potential for another $617 million in milestone payments. Amgen also received options to exclusive licenses.
The morning after its financial report, shares of Arrowhead Pharmaceuticals fell nearly 8 percent to $3.28 on the Nasdaq Global Select exchange, with its market capitalization dropping from $265 million to $246 million.
Health business reporter Dana Bartholomew can be reached at dbartholomew@labusinessjournal.com. Follow him on Twitter @_DanaBart.
For reprint and licensing requests for this article, CLICK HERE.