Ports Set Cargo Movement Records for 2017
Tuesday, December 12, 2017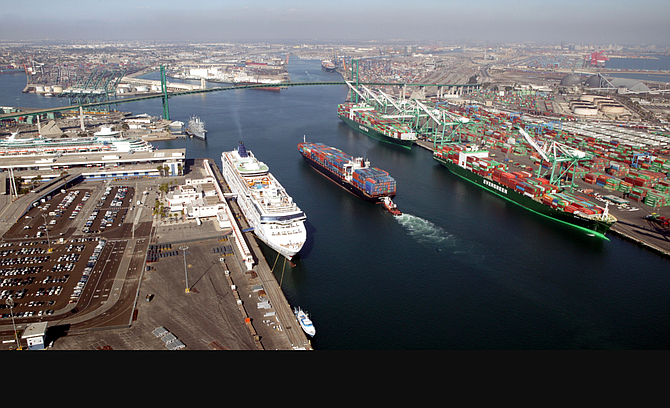 With still a month to go in 2017, the Ports of Los Angeles and Long Beach have set new records in container movement for the year.
The Port of Los Angeles moved 924,225 containers in November, an increase of 5.3 percent compared to a year ago. The month was the highest monthly cargo number recorded in its 110-year history, port officials said.
"Four vessels calling in Los Angeles each discharged and loaded more than 23,000 TEUs in November, all close to October's 24,308 TEU (20-foot equivalent unit) record set last month in Los Angeles," said Gene Seroka, executive director of the port.
Port officials said Los Angeles is on track to be the first western hemisphere port to exceed 9 million TEUs in a calendar year. For the first 11 months of this year, the port saw container volumes surge 6.3 percent over the same period last year. In November, imports increased 6.1 percent to 463,690 TEUs, and exports increased 0.3 percent to 177,913 TEUs. Empty containers, or those returning/leaving without any cargo, rose 7.4 percent.
The neighboring Port of Long Beach in November recorded a total of 612,659 TEUs, an increase of 14.7 percent, over the same month a year ago. The first 11 months of the year has seen a 10 percent increase in container movement compared to the same, year-ago period, port officials said.
Port officials said that retailers continuing to stock up for the holiday season helped last month's imports rise 18 percent to 319,210 TEUs while exports rose 4.5 percent, to 126,364 TEUs. Empty containers numbered 167,085 TEUs, up 17 percent.
Manufacturing and trade reporter Shwanika Narayan can be reached at snarayan@labusinessjournal.com or 323-556-8351. Follow her on Twitter @shwanika.
For reprint and licensing requests for this article, CLICK HERE.