Times Square Feel for Downtown?
HOTELS: Figueroa to get prominent LED displays
Friday, December 8, 2017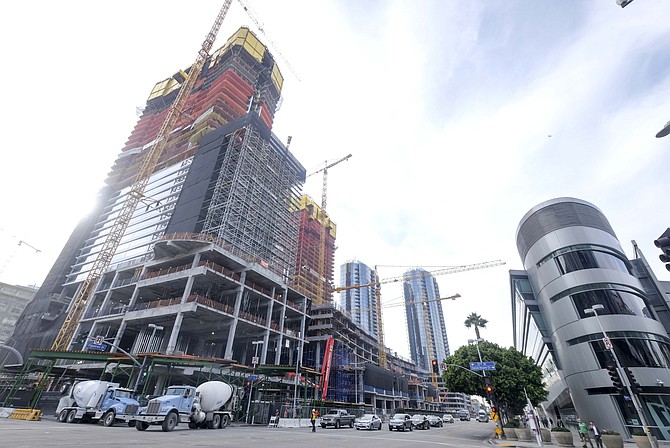 Shenzhen Hazens also is in the process of obtaining city council approval of its project, Ha said.
Doane Liu, executive director of the Los Angeles Department of Convention and Tourism Development, likened the future vibe of the neighborhood surrounding the convention center to the Roppongi district of Tokyo, Japan, a neighborhood known for being an entertainment and social epicenter for that city.
"I think this district will definitely be an expansion of the success of L.A. Live," Liu said.
Hotel goals
The three adjacent projects together are seen as the next step toward the city's goal of adding 8,000 hotel rooms within walking distance of the convention center, according to Councilman Jose Huizar's office. The city is already at 67 percent of the goal, according to Huizar's office, with 5,354 rooms built or under construction. The Lightstone project alone would bring the total to 81 percent of the goal.
Liu of the city's convention and tourism department, said the benchmark of 8,000 hotel rooms was the figure the city determined to be enough to be able to compete with major convention center cities like San Francisco and San Diego and attract big conventions.
"That's what we think it would take to compete with San Francisco, San Diego and Anaheim," Liu said.
City officials, Liu said, hope to achieve the goal within the next few years. The convention center currently hosts about 30 city-wide conventions annually, but Liu said he could see it doubling when the number of nearby hotel rooms grows and the convention center expands within the next five years to 1 million square feet of floor space, up from its current 800,000 square feet.
Ted Fikre, vice chairman of AEG, which owns the Staples and L.A.Live – and is contracted with the city to manage the convention center – said the firm endorses the need for more hotel rooms over time, but offered a note of caution.
"We support the objective of increasing the supply of hotel rooms near the Convention Center over time," Fikre said in a statement. "But hotel development is capital intensive and high risk, so it is important to be thoughtful about the pace at which new projects are brought to market.  Additionally, not all hotels yield the same benefits or warrant the same public assistance, as full service group hotels are the most expensive to build and operate, but are also best suited to spur the event business which is a key driver of Convention Center success and related economic activity."
For reprint and licensing requests for this article, CLICK HERE.