Times Square Feel for Downtown?
HOTELS: Figueroa to get prominent LED displays
Friday, December 8, 2017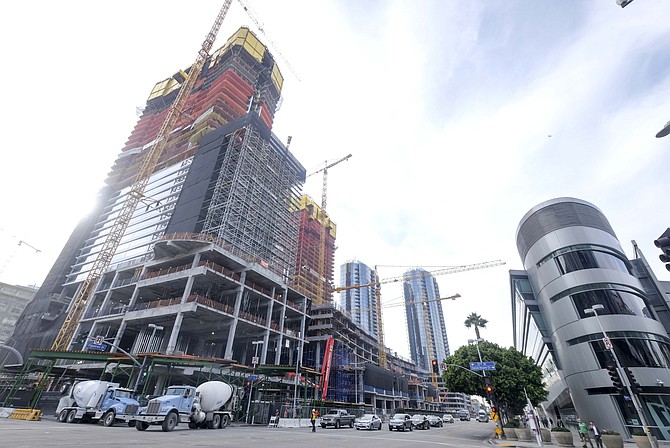 A drab sea of parking lots that have blanketed the east side of Figueroa Street near Staples Center for 20 years could be transformed into a Times Square-like zone as part of the city's larger strategy to feed the nearby L. A. Convention Center with larger events.
The three massive projects underway or planned are seen by some city officials as necessary ingredients to reap the full benefit of an expected expansion of the municipally owned convention center.
The three projects, each a block wide, call for a mix of uses, and are located across Figueroa from the convention center, Staples Center and L.A. Live.
Overall, they are anticipated to bring more than 1,600 new hotel rooms, hundreds of housing units and numerous restaurants and retail stores.
The Oceanwide Plaza project currently under construction will bring nearly 200 hotel rooms and 500-plus condos above a shopping center; the Fig+Pico project planned a block south would deliver, if approved, 1,130 hotel rooms atop shops and restaurants; the Hazens L.A. Center anticipates 300 hotel rooms and 435 condos at the other end of the row, at Olympic Boulevard and Figueroa.
All the structures would be illuminated by giant LED displays that might call to mind the famed Times Square in Manhattan.
Scott Rynders, vice president of West Coast development for New York-based Lightstone Group, developer of the Fig+Pico project, said the finished product as currently planned would provide three different hotel brands with a range of prices.
"(The project) will provide a greater choice of hotel inventory, and attract an increasing volume and variety of conventions that will help fill an expanded Convention Center," said Rynders.
Transformation
Lightstone plans include a 42-story tower with 820 hotel rooms and a 25-story tower with an additional 310 hotel rooms, according to the firm. The project also would include 13,000 square-feet of ground-floor retail and restaurant space, according to Lightstone.
"To me, this is the epicenter of Downtown L.A. and our project will fit in with the other projects within the neighborhood," Rynders said.
Oceanwide Plaza will feature a 184-room Park Hyatt Hotel and 504 condo units. The project will be the tallest residential building in Southern California, according to the developer, and include a 700-foot-long, 35,000-square-foot ribbon-shaped LED sign along Figueroa.
China-based Shenzhen Hazens Real Estate Group is planning a 300-room W Hotel as part of the Shenzhen Hazens L.A. Center project a block north, on the corner of Figueroa and Olympic, according to Simon Ha, a partner in downtown Los Angeles-based Steinberg Architects.
Prev Next
For reprint and licensing requests for this article, CLICK HERE.