UCLA Anderson Study Projects Short-Term Economic Growth, Uncertain Future
Wednesday, December 6, 2017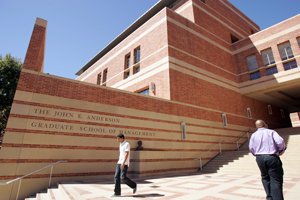 California is poised for an economic growth spurt next year that will likely peter out as a federal tax bill slows housing construction and rising housing costs make it harder for employers to recruit qualified workers, according to a UCLA economic forecast released Wednesday.
The UCLA Anderson Forecast pointed to "a sunny 2018 with clouds coming in 2019" for both the nation and California.
The short-term effects of a federal tax overhaul could lead to a slight boost in business investment and worker productivity next year, but that economic lift could be short-lived as construction growth is threatened by higher interest rates and other provisions of the tax bill. The elimination of state income and property tax deductions on federal tax returns would be particularly harmful to California's economic prosperity, the Anderson study projects.
"(A) modest dampening of housing due to the new tax bill, assumed to pass in some form in our national forecast, reduces economic growth in the state," writes Jerry Nickelsburg, director of the Anderson Forecast at UCLA.
Nickelsburg said expensive housing in California may also constrain employers from recruiting qualified out-of-state workers, further slowing economic growth.
The unemployment rate in California is expected to fall to 4.6 percent by the end of 2019, according to the forecast, with home building expected to reach 121,400 units a year. In October, the state's seasonally adjusted unemployment rate was 4.9 percent.
He said total employment growth would be 1.2 percent this year, 1.5 percent next year and 1.1 percent in 2019.
The national short-term economic forecast is also rosy, with 3-percent growth expected next year as a result of robust spending on equipment, the likely tax cuts and an uptick in consumer spending. Economic growth is expected to slide to lower than 1.5 percent by the end of 2019 "as the outlook becomes cloudy," the study projects.
UCLA economists say that if the U.S. should dissolve the North American Free Trade Agreement, American automakers that send parts back and forth between Mexico and the U.S would be especially hard hit.
"In our view, should the U.S. leave NAFTA," UCLA Anderson Senior Economist David Shulman noted in the report, "the growth outlook would deteriorate and the chance of a recession in late 2018 or 2019 would significantly increase."
Health business reporter Dana Bartholomew can be reached at dbartholomew@labusinessjournal.com. Follow him on Twitter @_DanaBart.
For reprint and licensing requests for this article, CLICK HERE.