Foreign Capital Focused on Class A Prizes
Single-tenant occupancy, long-term lease part of appeal of DreamWorks HQ
Friday, December 1, 2017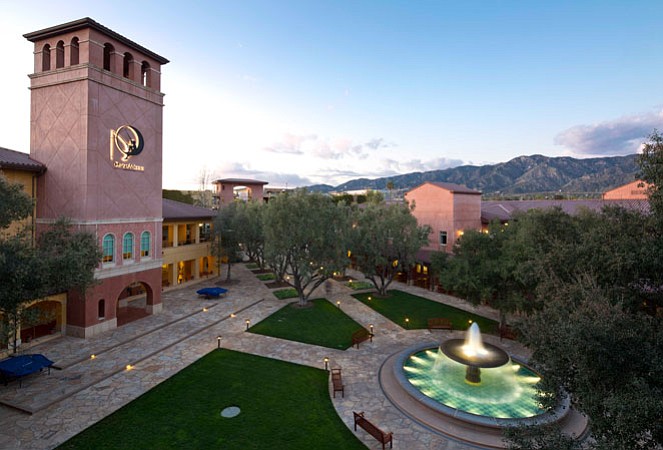 Foreign investment into L.A. properties deepened last month with a South Korea-based company's purchase of the DreamWorks headquarters in Glendale, a deal which seems to shed some light on an increasing trend toward prime assets.
"We have seen strong interest by foreign capital for Class A, long-term net-leased assets on the West Coast," said Kevin Shannon, a president with New York-based Newmark Knight Frank, in a statement from the brokerage. "This is another example of Asian capital targeting Los Angeles for direct investment. This single-tenant asset type is much harder to come by in Los Angeles compared to San Francisco, Silicon Valley and Seattle."
LA Hana OW, an entity of Hana Asset Management in Seoul, joined with Santa Monica-based investment firm Ocean West to buy DreamWorks Animation's studio campus. The 460,000-square-foot creative office fetched $290 million, according to NKF.
The five-building property, built in 1997 on 15 acres at 1000 Flower St., is 100 percent leased through 2035 to DreamWorks Animation SKG Inc., a wholly-owned subsidiary of Comcast Corp., according to NKF.
Shannon and NKF's West Coast Capital Markets Executive Managing Director Ken White and Managing Director Laura Stumm represented the seller, Glendale-based GC Net Lease Investors, an entity of El Segundo-based Griffin Capital Essential Asset REIT Inc., according to NKF.
NKF Capital Markets' Executive Managing Director David Milestone and Managing Director Brett Green arranged the financing on behalf of the buyers, which said the acquisition will be a long-term hold, according to the firm.
Griffin Capital acquired the property in July 2015 for $215 million prior to the acquisition of DreamWorks by Comcast in August 2016.
The company made a nearly 35 percent gain on the sale price of the property.
Griffin Capital's Director of Acquisitions Louis Sohn attributed the price gain to Comcast's purchase of DreamWorks, which he said, in a statement, significantly improved the animation studio's credit profile.
The DreamWorks campus includes five buildings within a Mediterranean-styled campus.
Fast Sale
Olivaceous Inc., a Downtown Los Angeles-based garment manufacturer, has purchased a 13,823-square-foot industrial building on 20,758 square feet of land in downtown for $4.8 million, according to Kathleen Silver, president of Beverly Hills-based Silver Commercial Inc. 
Olivaceous will occupy a portion of the building for warehousing immediately and plans to lease out the balance, according to Silver Commercial. The property was sold by Bradley Blahut of Los Angeles.
"The property went under contract within a week of going on the market," Silver said. "With the industrial vacancy rate below 2 percent, there is high demand for this type of product." 
The property sold for $347 per square foot. That's about in line with recent comps, including a $3.25 million deal, or roughly $357-per-square-foot, for a 9,114-square-foot industrial building at 771 E. 9th St. in August of 2016, according to CoStar Group Inc.
Blahut built the structure, which is located at 1107 E. 7th St., in 1976 for his printing/collating company Collating House, according to the Silver Commercial.
Silver and Kay Sasatomi of Silver represented the seller in the transaction. Brent Koo and Lee Yoo, of Irvine-based Sperry Commercial represented the buyer. 
The property, Sasotomi said, is in a very desirable location outside the Arts District just two blocks from three major mixed-use development projects including The Row, a 1.9 million-square-foot campus; Alameda Square, a 344-unit mixed-use community; and 6AM, a mixed-use community with two 58-story towers.
Creative Purchase
Denver-based EverWest Real Estate Partners has partnered with Chilean-based fund manager Frontal Trust to purchase a redesigned creative office property.
The 50,000-square-foot LINQ building at 2400 Marine Ave. in Redondo Beach sold for an undisclosed amount, but Montana Avenue Capital Partners acquired the property in 2015 for $9.5 million, according to CoStar Group Inc.
Steve Solomon and Kristen Bowman of Chicago-based Jones Lang LaSalle Inc. represented the seller, Sawtelle-based Montana Avenue Capital Partners.
The LINQ property is the first investment by the new joint venture of EverWest and Frontal Trust.
"LINQ checks all of the boxes we were looking for in our inaugural joint venture investment with Frontal Trust," said Erik Good, managing director for EverWest, in a statement. "It is well located, was recently renovated with modern amenities and finishes, and has an attractive return profile."
The property is 80 percent leased.
Staff reporter Neil Nisperos can be reached at nnisperos@labusinessjournal.com or (323) 556-8337.
For reprint and licensing requests for this article, CLICK HERE.