All Charged Up
200 now on job at 113,000-square-foot facility for EV battery packs in Vernon
Friday, December 1, 2017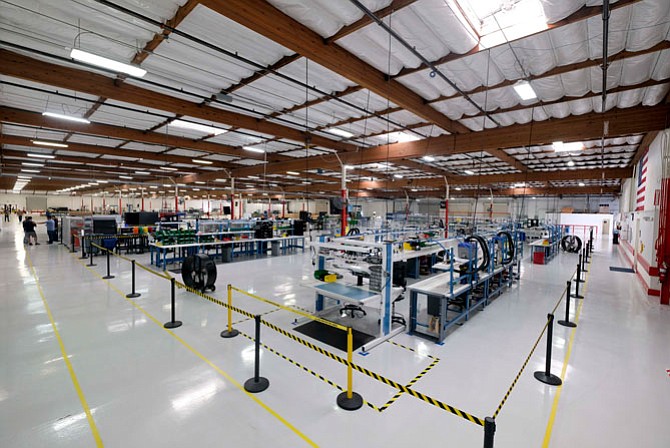 Electric vehicle battery pack maker Romeo Power is charging up production at its newer 113,000-square-foot assembly facility in Vernon.
The company completed the installation of its fully-automated battery pack assembly line in November and now employs 200 at the facility, an increase from 40 in February when the company first moved into the location.
Romeo designs, engineers and produces lithium-ion battery packs on-site. With its newly installed automated assembly line, the manufacturer now has the capacity to generate billions in revenue – $3.6 billion a year, said Michael Patterson, co-founder and chief executive.
Romeo has some sales to do before it can meet that sort of potential.
"Production output numbers will vary depending on the types of battery pack orders," said chief production officer Mark Schwager.
Romeo has disclosed $65 million in initial orders for its battery packs scheduled for delivery in 2018, an announcement that came with word of a $30 million seed funding round. The contracts and design agreements include deals with automakers, manufacturers of motorcycles and forklifts, and other industrial players across the United States and Europe.
"We've grown tremendously this year, and are already looking to expand into other locations," Patterson said.
Romeo launched its first consumer product in October, introducing the Saber, a mobile charging device it claims can charge an iPhone up to 10 times before needing a recharge of its own.
"Saber is like having a wall socket in your pocket," Dion Isselhardt, chief design officer, told the Business Journal at the time.
Although Romeo is looking to expand elsewhere, manufacturing will stay in Vernon for now.
"It's ideal to manufacture here," Patterson explained. "We have rail, and the ports are right here – there's a great infrastructure in place."
For reprint and licensing requests for this article, CLICK HERE.