Grocery Delivery Service Adds More to Basket
Instacart expands coverage in Los Angeles amid push to draw shoppers online.
Friday, August 25, 2017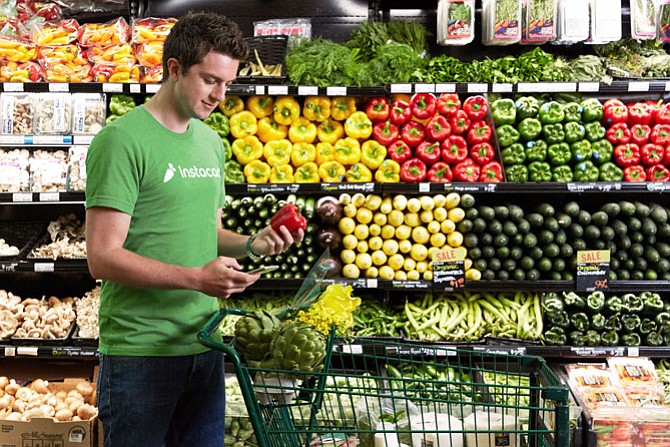 The fight for grocery delivery dominance is heating up as Instacart moves to bolster its L.A.-area presence.
The San Francisco company, which charges customers $5.99 per delivery order or $7.99 for orders delivered under an hour, announced this month that it has expanded its coverage to most of Los Angeles as well as added parts of San Bernardino, Riverside, Ventura and Orange counties. The expansion brought the number of households it can service up to 3 million from 2 million locally and to more than 50 million nationally, according to Sean Twersky, senior regional director. The company uses the U.S. Census' definition of household, which would count as three people.
Instacart, which has raised almost $675 million in funding to date, said later that month that it had struck a deal with German discount grocer Aldi, whose U.S. branch is headquartered in Batavia, Ill., to offer delivery in Los Angeles County and two other markets.
The moves come after Amazon.com Inc. announced in June that it planned to acquire Whole Foods Market Inc., which has a partnership with Instacart, for $13.7 billion. A Whole Foods representative said at the time that the company planned to continue using Instacart.
Twersky, who is based in Los Angeles, said he wasn't authorized to discuss whether the deal influenced Instacart's decision to expand.
But Phil Lempert, chief executive of Santa Monica market research company Supermarket Guru, said he didn't have any doubt that they were related.
"Absolutely," Lempert said. "Instacart got its start with Whole Foods. It's probably going to lose that business."
Lempert added there is overlap between Whole Foods and Amazon Prime customers.
Aldi, which now has about 15 stores in the county, is one of a handful of retailers that have flocked to Instacart as a way to offer online ordering and delivery overnight – sometimes literally. Instacart in some cases can have a new e-commerce business up and running within a few hours, Twersky said.
"It's plug-and-play e-commerce," he said. "We can get you on e-commerce in a matter of days or hours."
Retailers usually pay Instacart a negotiated fee and a percentage of each order, he said, but arrangements can vary. For example, stores can use the company's software to allow customers to order online and then pick up in store themselves, or they can designate an area of their store for Instacart employees to process orders, as is the case at some local Whole Foods markets.
Instacart is trying out delivering nongrocery items as well. Marina del Rey-based boutique pet store chain Healthy Spot, Petco, Sur La Table and CVS Pharmacy are among the retailers offering services locally through Instacart. Instacart can even pick up and deliver items from stores with which it doesn't have a relationship, although customers must pay more for such orders. The company plans to hire 300 contractors to ferry purchases from stores to customers in order to service the expanded coverage area.
Lempert said that the significance of Instacart's play depends on how many people in its coverage area are willing to order groceries online.
"Keep in mind that food delivery is still around 3 percent (of groceries bought in the United States)," he said. "If in fact 3 million households use or are likely to use delivery, that's huge. If those people don't use delivery, it's meaningless."
Twersky said Instacart's biggest challenge was converting more people to online grocery shopping.
Tender Greens Goes Red
Culver City-based fast-casual restaurant chain Tender Greens is dropping the green.
The 24-location chain owned by TYP Restaurant Group Inc. has gotten a makeover as it plans to expand to the East Coast with a New York store next year. The new logo, with a white lower-case "g" meant to look like a plate and pan on a background of red, has replaced the former logo, which featured the restaurant's name in brown with a cluster of green leaves. The new look comes courtesy of graphic designer Paula Scher.
"This new branding captures the original vision for our restaurants and offers a window into our future," said Chief Executive Erik Oberholtzer in a statement. "Paula designed an identity and mark that captures what makes Tender Greens so special – a team of chefs who create dishes daily, and the energy and passion that happens in their kitchens."
Scher, a partner at New York's Pentagram design consultancy, also created Shake Shack's logo. The hamburger chain's founder, Danny Meyer, whose Union Square Hospitality Group invested in Tender Greens in 2015, introduced Scher to Tender Greens, according to Tender Greens.
Staff reporter Caroline Anderson can be reached at canderson@labusinessjournal.com or (323) 556-8329.
For reprint and licensing requests for this article, CLICK HERE.