LA 500: Scott Hunter
Real Estate
Friday, August 18, 2017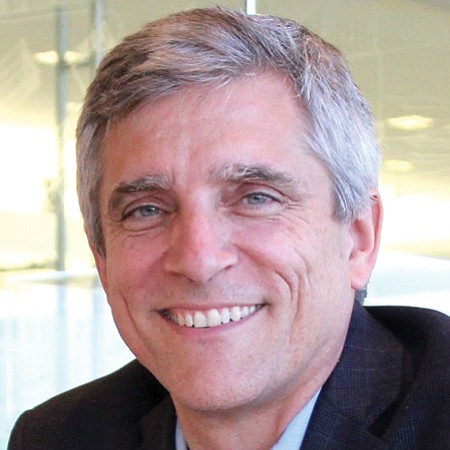 Scott Hunter
Principal and Pacific Regional Director, HKS Architects Inc.
Scott Hunter is principal and Pacific regional director for HKS Architects, a multinational architecture firm. He has led a wide range of award-winning projects across the globe, including master planning, workplace environments, government, high-rise mixed-use, hospitality, multifamily, academic, and professional sports facilities. A licensed architect in California and Washington state, he is a member of the U.S. Green Building Institute, Westside Urban Forum, and Urban Land Institute, and is a former director for the AIA California Council. Hunter initially focused his creative energy in theater. Through this medium, he learned how impactful images, sound, and light, combined with words and ideas, can create memorable immersive experiences.
Enjoy most: I am fortunate to meet a wide array of people from many cultures across the globe, all with an idea, dream, or business plan they want to turn into a reality.
Toughest challenge: Architecture is notoriously tough on the young, yet somehow I kept at it while others went into the tech sector or otherwise left the profession.
Proudest moment: I recently was elevated to the AIA College of Fellows, and my dad was able to attend
the ceremony.
Most excited: With climate change and continued global urbanization, how we live 50 years from now may be quite different than today. I am motivated by the important role architects will play to help solve these new challenges.
Best advice: Stick to what you believe in and build your skills in that area.
Beverage: Sparkling water, or a nice reposado tequila.
Alma Maters: BA, Highest Honors, UC Berkeley; Master's, Harvard University.
Fun fact: I once performed in an eight-hour stage adaptation of Charles Dickens' "Nicholas Nickleby" and played about 10 different roles.
Bucket list: Visit Antarctica before all the ice melts and coastal cities and island nations are flooded. That and touring ancient sites in Greece and Egypt.
Hobby/passion: Snow skiing, travel, and photography.
Favorite destination: Coming back home after a great trip somewhere.
For reprint and licensing requests for this article, CLICK HERE.