Amateur Golfers Drive Commercial Opportunities
Organizers of championship event point out its pull with big names from business.
Friday, August 18, 2017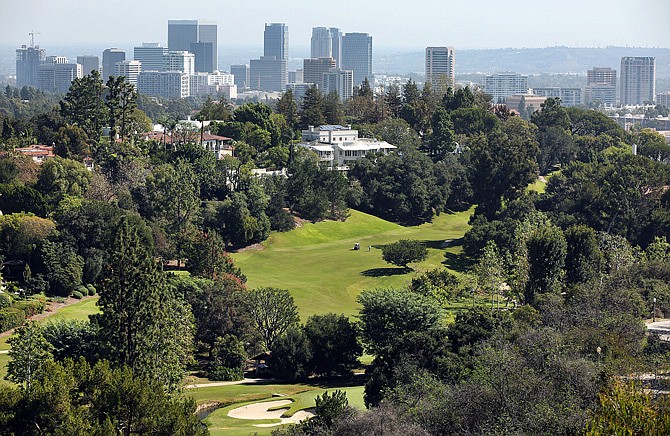 There was more than this year's trophy at stake when top amateur golfers from around the world descended on the L.A. area for last week's U.S. Amateur Championship jointly hosted by the Riviera Country Club and Bel-Air Country Club.
Participating courses typically get evaluated by PGA officials and network executives during such events. They examine the courses' potential commercial viability to draw fans as well as sell tickets and merchandise for major events.
"They see how much merchandise is being sold and the vibe around the tournament," said Michael Yamaki, general chairman for the tournament and corporate officer for the Riviera.
Yamaki also noted that Hideki Sano, chief executive of Cleveland Golf, a manufacturer of clubs, equipment and accessories, was slated to attend the tournament. So was Bob Parsons, founder and former chief executive of GoDaddy. He launched Parsons Xtreme Golf in 2014 and makes the most expensive clubs on the market.
Riviera already hosts the PGA's annual L.A. stop in February at the Genesis Open. And it is slated to host the men's and women's golf competitions at the 2028 Olympics.
More opportunity might be found in the PGA's recent announcement of a change to the date of its namesake major championship from July to May in future years. That new schedule creates an opportunity for courses in areas that have scorching summertime temperatures to host the event.
"It's going to change the dynamics – there's an East Coast bias in all of sports, golf in particular," Yamaki said. "That's one good thing about showcasing this with golf. With PGA moving this, it's a perfect time."
Quite a showcase, too.
Many of the greatest pro golfers began their careers by playing and winning the amateur event, including Jack Nicklaus (twice), Phil Mickelson and Tiger Woods (three times).
The high level of competition makes it an ideal situation for potential sponsors to evaluate future pros.
"Guys like David Abeles, chief executive of TaylorMade, are coming out to look at these kids," Yamaki said.
More than 7,000 people were expected to compete in qualifying events before the field was whittled down to 312 people. Golfers range in age from 15 to more than 50.
The tournament features head-to-head competition for seven days, culminating with a 36-hole championship.
Football Foodies
Barcelona Enterprises, a Woodland Hills-based experiential marketing and ad agency, is bringing a new player to its Las Vegas Food & Wine Festival in October.
Prev Next
For reprint and licensing requests for this article, CLICK HERE.