2016 Revved Up Sales for County's Car Dealers
AUTOMOTIVE: Recession rebound continued in face of tech, transportation shifts.
Friday, August 18, 2017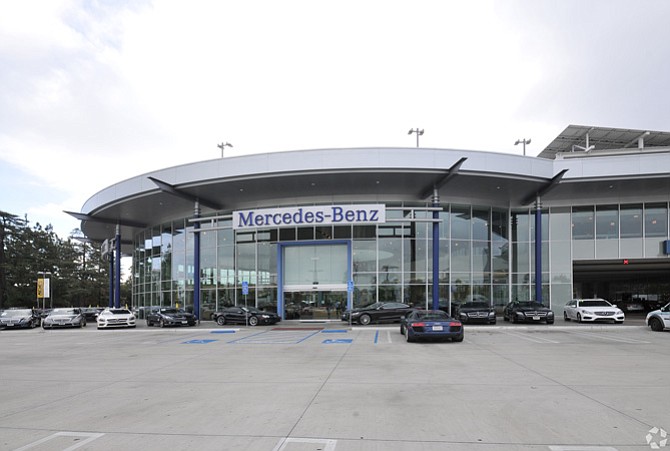 The largest auto dealerships in Los Angeles County saw their revenue tick up last year by 4.5 percent to $7.9 billion from $7.5 billion in 2015.
The list was topped by Van Nuys-based Keyes European, with $474 million in 2016 sales, dethroning last year's sales leader, Galpin Ford of North Hills, which followed closely with $467 million. Both dealerships saw their sales numbers rise, but Keyes' 5.7 percent growth outpaced Galpin's 2.4 percent.
It wasn't all good news for Keyes Automotive Group – the Van Nuys parent of Keyes European. The company's second-biggest dealership by revenue, Keyes Lexus, saw its sales plummet 23.6 percent in 2016 to $287 million from $375 million a year earlier. Keyes Toyota's revenue also declined, falling 5.6 percent to $208 million from $220 million in 2015.
Those dips were offset by gains at other dealerships, including Keyes Chevrolet, which saw a more than 20 percent jump in 2016 revenue to $132 million from $110 million the previous year.
North Hills' Galpin Motors Inc. also saw some impressive gains at its dealerships, including a 28 percent increase at Galpin Jaguar Lincoln, which had $168 million in 2016 sales.
The gross number of new vehicles purchased from Los Angeles County dealerships was also up in 2016 for the seventh straight year. There were nearly 537,968 cars sold in the region last year, a jump of 3.2 percent from 2015's 521,310, according to figures from the Greater Los Angeles New Car Dealers Association.
The county market's strong 2016 buoyed the spirits of many dealers in the region despite looming industry changes related to electric vehicles, self-driving cars and a ridesharing culture embraced by millennials.
"The industry is changing a little bit, but I look at it as mostly a positive," said Honda of Downtown Los Angeles owner Joe Shuster. "Driverless cars, ridesharing, for some, those things seem scary, but there's lots of opportunity, too."
Shuster said that while tech companies such as Apple Inc. and Google parent Alphabet Inc. are trying to disrupt the auto industry in some ways, they are also pouring enormous amounts of money into, for all intents and purposes, the auto industry. Shuster is confident car dealers will still have a role going forward, even if their suppliers might change.
"There is a lot of money coming into the auto business right now from companies like Google, Microsoft, Amazon and Apple," Shuster said. "And a lot of dealers are excited about that."
End of era
The combination of a strong market, industry shifts and unplanned expenses for some dealerships has made for an active M&A market for auto dealerships in 2017.
More than a dozen lots were sold over the past year. Just this month, one of the county's largest dealerships, Downtown Los Angeles Auto Group, sold eight of its nine dealerships for roughly $150 million to Lithia Motors Inc. of Medford, Ore.
Darryl Holter, chief executive of the dealership's parent company, Shammas Group, said the decision was partly about a large estate tax bill – co-founders Nickolas and Jeanette Shammas died in 2003 and 2014, respectively – but market conditions also factored into the decision to sell.
"We've had good times lately, and I'm not sure how long that will last," Holter said. "(Dealerships) have all benefitted from the pent-up demand created by the Great Recession, but as we look forward there's a lot of change headed for our industry."
Shammas still owns the land underneath the eight dealerships it sold, and the company still controls its flagship Felix Chevrolet, which opened in 1955 as the first Downtown auto group's car lot.
Shuster said manufacturing reps have pressured dealers to bring some new blood into their ranks and consolidate auto groups.
"A lot of it is driven by the manufacturers who see that the industry is hot right now," he said. "We've seen it with our Honda zone manager, who has done a great job sitting down with dealers and explaining the situation."
Holter said his decision was more of a practical one.
"I'm 70 years old and I don't really have much of a succession plan," he said. "I decided to sell the dealership and retain the properties. It's that simple."
For reprint and licensing requests for this article, CLICK HERE.