Big Score for Park
Special Report: Business of Sports
Friday, August 11, 2017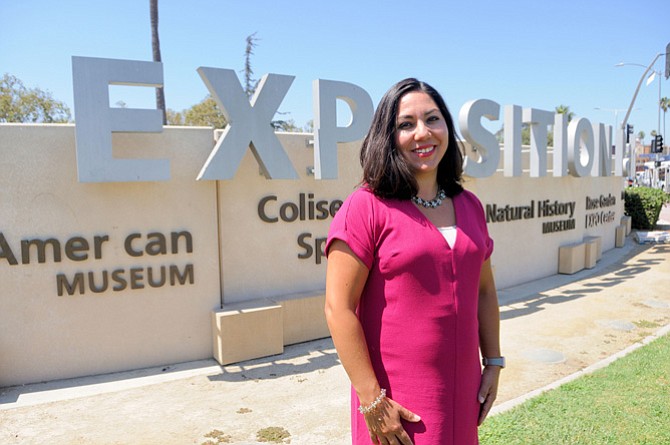 The arrival of Los Angeles Football Club's Banc of California Stadium in Exposition Park next year will mark another chapter in the storied site's history.
The $350 million stadium will hold 22,000 seats and include more than 100,000 square feet for restaurants, office space, a conference center and a world soccer museum. Officials said they expect the stadium and attractions to bring an additional 2 million annual visitors to Exposition Park from a current tally of 6 million.
When the Major League Soccer franchise's co-owners acquired the club at auction in 2014, their first order of business was finding a location for a new venue, said LAFC co-owner and President Tom Penn.

"In greater Los Angeles, the first challenge is you can't find the land – there is no land," Penn said.
He said LAFC considered sites in Orange County, near Dodger Stadium and in the San Fernando Valley before settling on the Los Angeles Memorial Sports Arena site at Exposition Park. Local government and MLS officials had already identified a soccer stadium as a potential option to replace the aging and financially challenged arena built in 1959.
Penn said Exposition Park's 5,700 parking spaces and the neighborhood's ability to accommodate 80,000 to 90,000 people on a regular basis for football games were also big pluses.
"Everybody in L.A. knows where it is and how to get there and where they park because it's the old Sports Arena," he said.
City of L.A. officials said they did not encounter any community opposition during the entitlement process after the decision was made to build the stadium in Exposition Park.
"Our office became very aggressive in working with the developers, helping clear away any roadblocks and providing material support," said Los Angeles City Councilman Curren Price, whose 9th District includes Exposition Park. "It became a real priority in District 9 to bring them here."
See related story: Vet Private Equity Investor Takes Shot at Pro Sports
The state, which owns Exposition Park, entered into a joint-powers authority agreement with the county and city of Los Angeles in 1945 to create the Coliseum Commission, which acts as a landlord to the Coliseum and the soccer-stadium property. The commission subleases management of the Coliseum and some surrounding property to USC, which entered into a lease agreement with LAFC until 2054.
"LAFC had a very strong community engagement and outreach," said Ana Lasso, general manager of Exposition Park. "LAFC is really a community-owned and community-run organization."
Banc of California Stadium – the naming came on a $100 million, 15-year sponsorship deal (see related story, page 17) – isn't the only major development in Exposition Park. USC has launched a $270 million facelift of the Los Angeles Memorial Coliseum set for completion in 2019 and "Star Wars" creator George Lucas is set to invest more than $1 billion toward a new museum at the park dedicated to the art of storytelling. The Lucas project is slated to launch in 2021.
Exposition Park officials also have plans to build a pavilion at the California Science Center to house the space shuttle Endeavour.
Joe Furin, general manager of the Coliseum, said it's an exciting time for everyone at Exposition Park.
"There's great opportunities out there for Angelenos to discover or reconnect to Exposition Park, the museum and the Coliseum," he said. "For us that work there on a daily basis, we have to continue what we've been doing – working together to iron out the hiccups. I would be surprised if there were other similar projects that had this much opportunity or infusion overnight."
Traffic flow
The Los Angeles County Metropolitan Transportation Authority's Expo Line is expected to relieve increased parking demand for events at the park's many attractions.
Lasso noted Metro trains serviced about 25 percent of visitors to Los Angeles Rams games at the Coliseum last year.
Exposition Park has about 6,000 parking spaces and will lose some parking during the construction of the Lucas Museum of Narrative Art on existing parking lots. However, Lasso said the museum plans to replace those lots with underground parking that would increase Exposition Park's total spots by 600 when finished. USC will provide additional parking for Exposition Park visitors during the museum's construction. LAFC does not plan to build any parking lots, though it will offer 440 spots for bicycles and a bike path as part of the city's Figueroa Corridor Streetscape project.
Exposition Park stakeholders will also start work soon on a master plan for the area to be released in 2020.
"One of my goals is to provide a platform for all of the entities, not to work in silos, but to have the ability to work through my staff and with me, so that we can get their input on how we can co-market the brand and address and celebrate accomplishments," Lasso said.
Neighborhood growth
The increased amenities will have a positive benefit toward real estate development in South Los Angeles, said Javier Rivera, executive vice president of brokerage Jones Lang LaSalle.
"The high-profile projects of Exposition Park combined with the increased accessibility provided by the Metro Expo Line are excellent additions," Rivera said in an email. "To date, most of the new development has been tied to USC student housing, but these new additions may create an opportunity for new class A transit-oriented market apartments."
The new developments would not have a significant effect on rents as the nearby product is almost exclusively student housing, Rivera said in the statement.
Rob McRitchie, senior vice president of capital markets for JLL, and a USC alumnus, said the university's support for Exposition Park and the surrounding community has been a real catalyst for economic growth.
"Exposition Park has always been an amazing addition with the museums and the Coliseum, but with SC's expansion beyond its traditional boundaries of a campus going in every direction, it seems this area has really become more of a part of downtown," McRitchie said.
A new car dealership is also headed to the area, with Honda of Downtown Los Angeles set to occupy the south side of Martin Luther King Jr. Boulevard across from LAFC's stadium next summer.
"Certainly, it's a plus for my business, but it's also a significant plus for that neighborhood, for the people and the community," said Joe Shuster, the dealership's owner. "All this development at Exposition Park is positive … not only for property values, but it also creates a ton of jobs for everybody in that neighborhood, which is very necessary."
Related links:
For reprint and licensing requests for this article, CLICK HERE.