3-D Printing Venture Sets Concrete Plans
Friday, August 11, 2017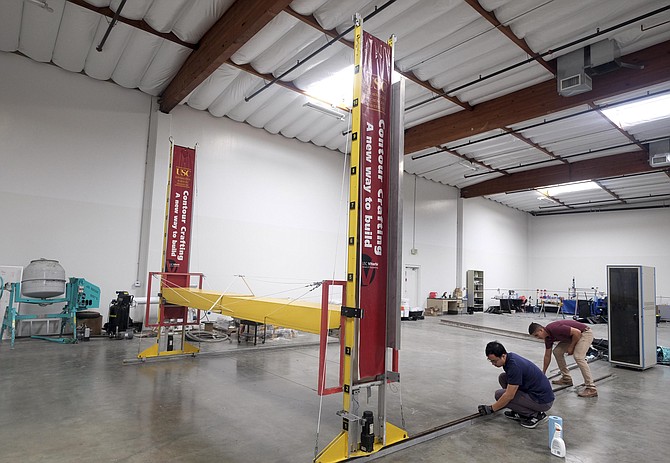 The 3-D printing craze has taken on a new dimension: home construction.
El Segundo-based startup Contour Crafting Corp. recently received an undisclosed amount of funding from Doka Ventures, the venture arm of Austrian concrete formworks giant Doka Group, which acquired a 30 percent stake. The investment is set to finance the manufacturing and delivery of outsized 3-D printers at the beginning of next year to Contour's first group of customers.
The company, founded last year by USC engineering professor Behrokh Khoshnevis, and its corporate backers are betting the technology, which prints concrete walls layer by layer, can automate the labor-intensive process of constructing the foundation and walls of buildings.
"If contour crafting gets to its full implementation, it really outdates formwork," said Khoshnevis, describing the disposable molds used to shape concrete structures. "It's like the digital camera versus the old (film) camera."
Contour's first commercial construction robots will have a reach of between 24 feet to 40 feet, allowing operators to print buildings within those dimensions. The machines will weigh less than 800 pounds, about half the weight of the smallest front-loading digging equipment found on typical construction sites.
Four machines can be packed into a single shipping container, and each printer requires two operators. Khoshnevis declined to disclose the exact cost of the machines, but said the printers could be priced at up to $1 million apiece.
Such a device could eliminate laborers from job sites, significantly reduce material costs, improve safety and speed up construction time – all of which represent a big opportunity to formwork companies, said Jürgen Obiegli, chief executive of Doka Ventures.
"We have very low productivity in the construction industry – it's not as modern," he said.
Added dimension
Khoshnevis has researched structural construction using 3-D printers since the mid-1990s. Much of his research has taken place at USC's Viterbi School of Engineering, where he is the director of the Center for Rapid Automated Fabrication Technologies. Contour, launched as a way to commercialize those efforts, has set up shop in a 33,600-square-foot facility in El Segundo.
Its 3-D printer product consists of a large crane and track system with an overhanging nozzle that oozes concrete. Structures are printed using a computer-aided design program. The startup claims its system has the ability to construct a 2,000-square-foot house in less than 24 hours, overseen by only two machine operators.
Contour aims to start off by printing the shells of smaller detached buildings, such as single-family homes. The company said it has multiple customers awaiting delivery next year, but declined to name them.
The goal is for the machines to eventually be fitted with tools that enable the installation of plumbing and electrical wires. Contour plans eventually to manufacture 3-D printing machines that can build multistory buildings and even infrastructure projects such as windmills.
Those plans intrigue Doka Group, which has provided the formwork for a number of high-rise buildings around the world, including the structural core of Dubai's 2,700-foot Burj Khalifa skyscraper, the tallest building in the world.
Doka Group's parent company, Umdasch Group of Amstetten, Austria, had revenue of $1.22 billion last year.
Speedy concrete pouring and low-cost construction could help Doka Group meet an anticipated increase in demand for low-income housing, said Werner Bittner, one of the company's board members who also serves as Contour's chairman.
"If you look at all the United Nations statistics, we will have a huge demographic change in the next 80 years," he said. "The current construction technologies are not able to deliver in that time infrastructure and housing."
Barriers to building
Construction industry insiders said Contour's 3-D machinery could be bogged down by the intricacies and regulatory hurdles of the construction industry – even if the products work as advertised.
"Construction is inherently far more complex than we often ascribe to it," said Mark Cabrinha, an associate professor of architecture at Cal Poly San Luis Obispo.
What's more, a large portion of construction costs are not incurred during the initial wood framing or concrete forming of a building, said Brett Thumm, senior superintendent of construction services for downtown-based Aecom.
"The guys that come in and put in the finishes in your house – light fixtures, your toilets, your receptacles, your HVAC – they get paid by the hour and it's more expensive," he said.
Coordinating automated house-building with government regulators might also be tricky, said Thumm, noting building codes would have to be updated to accommodate the technology.
"Construction is a very slow and stubborn industry," said Cal Poly's Cabrinha. "The idea of a single machine that's going to do everything, that's where the mythology comes in."
For reprint and licensing requests for this article, CLICK HERE.