Report: Pay Increases Slow in Los Angeles, Nationally
Tuesday, August 1, 2017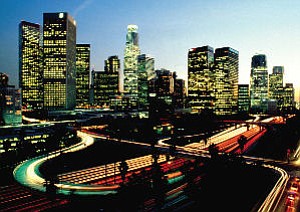 The L.A. metro area's median base pay grew 0.5 percent in a one-year period through July 17 to $59,064, below the national average of 1.2 percent, according to a report from jobs website Glassdoor released Tuesday.
The figures mark the slowest pace of wage growth in three years, indicating a continued slowdown in pay increases nationally, despite low unemployment and healthy jobs numbers, according to the report that is based on millions of anonymous salary reports shared on Glassdoor.
"While major economic indicators show that the labor market is healthy ¬– unemployment is low at 4.4 percent, 222,000 new jobs were added last month, and there are 5.7 million jobs open in the U.S. today – the benefits of this strong economy are not being shared widely among workers," Andrew Chamberlain, chief economist for Glassdoor, said in a statement.
L.A. pay reports show weaker pay growth for many traditionally middle-class jobs, according to Glassdoor. Office manager pay, according to the report, is down 1.2 percent to $56,440, and operations analyst pay is down 3.7 percent to $58,274.
Advances in software and automation are also putting pressure on jobs. New technology has led to loan officer pay decreasing 2 percent to $49,978 in the L.A. area, and design engineer pay dropping 1.9 percent to $84,360.
Automation is beginning to affect U.S. jobs that pay middle-class wages, Chamberlain said.
"For example, loan officers are not as in demand when consumers can apply for and complete a loan instantly online, and the office manager role changes when businesses utilize software and self-service kiosks for their employees and visitors," Chamberlain said.
Employers are also relying more on passing job candidates with the economy near full employment, placing recruiters in high demand, according to Glassdoor. Recruiter pay is up 5.8 percent in Los Angeles, according to the report.
Nationally, the annual median base pay grew 1.2 percent in July over the same time last year to $51,120. Pay growth slowed for the sixth consecutive month, down from a 1.5 percent revised pay growth recorded last month, according to the report. Pay growth peaked at 3.1 percent in January, according to the report.
For reprint and licensing requests for this article, CLICK HERE.