Utility Puts More in Storage at Facilities
ENERGY: SCE equips two plants with battery systems.
Friday, April 28, 2017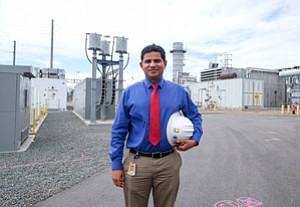 Gas-electric hybrid engines, which reduce greenhouse gas emissions and boost efficiency, have been popular in cars for years but are only now making inroads at power-generation plants.
Southern California Edison turned on the switch in March at battery storage units at two natural gas-powered peaker plants, which are used when there is peak demand for electricity. Each of the battery systems can store 10 megawatts of electricity, enough to power up to 9,000 homes, and, like their brethren in vehicles, have multiple environmental and conservation benefits.
"These battery units provide us with a flexible resource with immediate response capability," said Vibhu Kaushik, SCE's principal manager for asset management and generations strategy.
The battery storage units, in Norwalk and Rancho Cucamonga, were built in partnership with General Electric. They will allow SCE, a unit of Rosemead-based Edison International, to save on natural gas usage, push power instantly to the grid, and provide a place to store excess solar and wind power. This should help reduce power outages in Southern California, SCE said, and might reduce costs, though whether customers will benefit in the form of lower prices is still unclear.
Kaushik said the utility plans to install the batteries at its three other peaker plants. Such facilities power up only at times of peak demand, such as hot summer afternoons when homes and businesses crank up their air conditioning.
It's part of a much broader strategy to ramp up the utility's energy storage capacity to comply with state requirements and the mandates to have one-third of its power from renewable sources by 2020 and 40 percent by 2030. As of the end of last year, roughly 27 percent of Edison's total portfolio of 23,000 megawatts came from renewable sources, including wind, solar, geothermal, and hydropower.
With almost all of these renewable sources generating electricity on an intermittent basis, battery systems are key to storing excess energy when it's generated and then releasing it to the grid as needed. As of the end of last year, SCE had under contract the ability to store more than 400 megawatts of electricity in batteries. Some capacity is in giant battery complexes, which include a lithium-ion battery facility in Tehachapi and a joint system with Tesla Inc. in Mira Loma that was completed this year.
SCE also recently launched an experiment in Irvine with battery storage units in individual homes.
But the two battery storage systems at the natural gas-fired peaker plants mark the first time any U.S. utility has combined energy storage with conventional energy generation.
Prev Next
For reprint and licensing requests for this article, CLICK HERE.