Ethnic Banks Say Tech Now Speaks to Customers
Next Generation
Friday, April 28, 2017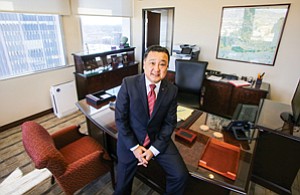 L.A.'s Chinese and Korean banks rely on their communities. Second-generation Asian Americans who speak English, while still tied to those communities, don't need the language-specific services their parents did, and that has local ethnic financial institutions worried.
"As the population of first-generation business owners retire or sell their businesses, we have found that the population of attractive clientele is shrinking," said Chong Guk Kum, chief executive of Koreatown's Hanmi Bank. "The Asian ethnic banks have not done a good job of attracting this younger generation."
Those anxieties have sent local Asian-American banks in search of new strategies to shore up their customer base, targeting a second-generation cohort that tends to be more professionally oriented rather than entrepreneurial.
Though there is no way to quantify the shift, anecdotally, bankers are talking about how this new generation of doctors, lawyers, and accountants is replacing shop and restaurant owners – and potentially their banks.
"It is a fundamental shift in customer base," said Timothy Coffey, vice president of research for consultancy FIG Partners, who's based in Walnut Creek. "All of them are struggling to find the right approach to dealing with it."
Several ethnic banks, including Hanmi, a unit of Hanmi Financial Corp., and Cathay General Bancorp, are turning to technology as part of an effort to entice younger depositors with convenience. Hanmi's strategy includes updating its brick-and-mortar branches with more advanced ATMs and iPads as well as refreshing its online services.
Existing customers for such banks might be aging, but their business is lucrative, and that makes things complicated as these institutions look to restructure themselves to handle the money of future generations. Traditionally, Asian banks served their communities by offering services in Korean and Chinese as well as financial products that serve small businesses, such as lines of credit and Small Business Administration loans, said Hanmi's Kum.
"The segment of the community that has been responsible for the economic success of the Korean-American community is the first generation who came over in the '70s," he said. "The older generation is such an attractive customer base, so that's where we have focused attention and resources."
Investing in immigrants
First-generation Chinese immigrants remain the fastest-growing customer base for downtown's Cathay Bank – its assets grew by nearly 10 percent last year, to about $14.5 billion, according to Chief Executive Pin Tai.
China was the top country of origin for U.S.-bound immigrants in 2013 with 147,000 arrivals, according to a U.S. Census Bureau study.
For reprint and licensing requests for this article, CLICK HERE.
Prev Next