Towering Hotel May Be High Impact Downtown
HOSPITALITY: Arrival of Wilshire Grand Center could overshadow rivals' business.
Friday, April 28, 2017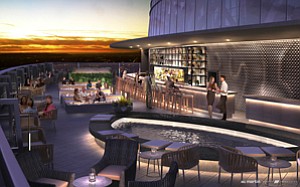 When the InterContinental Los Angeles Downtown opens this June in the Wilshire Grand Center, it will become Los Angeles County's fifth-largest hotel by room size, adding 889 rooms to the market.
The hotel, being built by Korean Air Lines Co. and which will be operated by the InterContinental Hotels Group, will open less than a mile from the Westin Bonaventure Hotel & Suites, L.A.'s largest hotel. It will also be within a mile of the Ritz-Carlton Los Angeles and JW Marriott Los Angeles L.A. Live, which share a building and operating staff, and combined make up the county's fourth largest. (See page 14.)
The addition of these rooms could spur a short-term drop in downtown's record-high occupancy rates, but it is not expected to have a long-term negative impact and might actually bring in more downtown visitors.
"It's good to have competition," said Jean-Jacques Reibel, the InterContinental's general manager. "I think it's very healthy for the consumer because people are striving to deliver service that's beyond their expectations."
The arrival of the InterContinental, which will begin taking reservations this month, might cause the area's occupancy rate, which was nearly 80 percent in April, to dip by 2 percent to 3 percent at other downtown hotels, said Bruce Baltin, managing director of CBRE Hotels.
The Los Angeles Tourism & Convention Board also expects the county's average occupancy rate to decline this year due to the opening of the InterContinental and other projects, said spokesman Shant Apelian.
However, Baltin said downtown's rate should rally after about a year.
"No, it's not going to create a glut," he said. "It's needed downtown. Right now, downtown occupancy is at an all-time high."
At just under 80 percent, downtown's occupancy rate was slightly lower than the county's average of almost 81 percent, but still well above the U.S. average, which was about 61 percent for the first quarter of this year, according to analytics firm STR Inc.
As the economy has rebounded from the recession, so has tourism. The county welcomed 47.3 million visitors in 2016, the region's sixth consecutive year of record numbers, according to the tourism board.
The county's average occupancy rate rose to 81 percent last year from less than 64 percent in 2009, according to data compiled by the board. Its average daily room rate rose to $171.95 from $114.93 in that period.
Despite the possible decline in occupancy, rates at downtown hotels, which charged an average of $188 a night last year, likely won't be affected, said Baltin. The InterContinental's rooms are priced at more than double the average, starting at $379 a night.
More on way
The InterContinental will be far from the only newcomer.
Hotel developments that began after the recession have started coming on line, with 17 expected to open this year, including at least three downtown.
Korean Air broke ground on the 73-story Wilshire Grand, which will include about 400,000 square feet of office space and 45,000 square feet of retail, at the end of 2013. To make way, it tore down the famed Wilshire Grand Hotel, which had 1,275 rooms when it opened in 1952, and 13 stories of offices.
The new tower, whose construction costs will exceed $1 billion, is the tallest building in the West, according to a hotel spokeswoman.
Although the office portion did not see much in the way of preleasing activity, the hotel won't have a problem filling rooms, said Gary Toebben, chief executive of the Los Angeles Area Chamber of Commerce.
"I think they'll do very well and their occupancy will probably run at the same level as the other major hotels in the area," said Toebben.
Reibel said he expects to open the first week of June, although there's a possibility construction will push back the date.
He said the brand is touting the hotel's height. The building will provide views from its three-story lobby on the 70th floor; an open-air rooftop bar on the top floor; and the guest rooms, which are on the 30th through 69th floors.
"When you enter the lobby with the three-story windows, it's something very remarkable," said Reibel. "I think you can't see it anywhere else in L.A. or California."
InterContinental, which will pursue business travelers as its core customer base, might even boost activity for its neighbors, said Toebben. The building includes an event and conference venue with a 21,000-square-foot ballroom and 33 meeting rooms.
"I think the addition of the Wilshire Grand will certainly be an asset to the entire community and other hotels here because it has the potential to attract larger conventions," he said.
For reprint and licensing requests for this article, CLICK HERE.