Apparel Firm Helps Professional Athletes Suit Up
CLOTHING: Jhoanna Alba credits Magic Johnson with assist in launching business.
Friday, April 28, 2017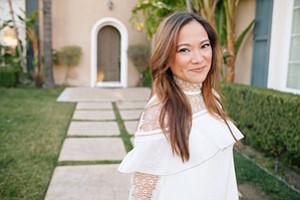 Former Los Angeles Rams defensive end William Hayes doesn't consider himself to be a fashion-forward guy six days a week, though he insists on looking good when he's in front of the cameras. That's why he turns to L.A. custom clothing designer Jhoanna Alba for his game-day suits.
"She tells me what to wear and I wear it," Hayes said.
Before the National Football League's Draft last week, top prospects Marshon Lattimore and Jabril Peppers also visited Alba to have her make their suits for the big day. Alba Bespoke Clothing lays claim to more than 1,100 professional athletes having appeared in its clothing. The company also designs and makes custom shirts and accessories such as ties or pocket squares.
Alba has developed a niche among basketball, football, and baseball players. While she typically receives business through referrals, the NFL invited her to open a pop-up shop at this year's Super Bowl in February. The store was located between Dolce & Gabbana and Tom Ford.
"We usually meet the guys at the hotel when they visit," said Alba, 45. "We will also go to their homes, organize closets, and see what they need."
She owns her own production facility in downtown's Garment District and employs 40 people, including tailors, Alba said. Some employees have been with her since she first launched the business 25 years ago.
Alba's $5,500 "rookie" package includes three suits; a five-suit package runs $9,000. Athletes can also buy packages of 10 suits or more, which are custom designed and fitted according to the customer's color, fabric, and style preferences.
Because athletes are in the spotlight more than ever with the explosion of social media, many see the cost as a necessary expense.
"It's about attention to detail and quality. She tailors to individual taste," said former pro football player Terrell Owens, who has been a customer for more than 10 years. "Jhoanna is reasonable. You get what you pay for. She's the one to call if you want to look good."
Alba said she was just 19 and managing a Beverly Hills tuxedo shop when she met basketball star Earvin "Magic" Johnson. He had her pick out ties and accessories and the two established a professional relationship. Eventually, Johnson encouraged her to start her own business. Alba took his advice 25 years ago and he became her first client, ordering 10 suits.
"He's my mentor. He's been loyal for many years," said Alba. "Magic helped me tremendously with the growth of my company."
For reprint and licensing requests for this article, CLICK HERE.
Prev Next