Westwood's Claremont Hotel Sells for $12 Million, to Get First Renovation
Wednesday, April 26, 2017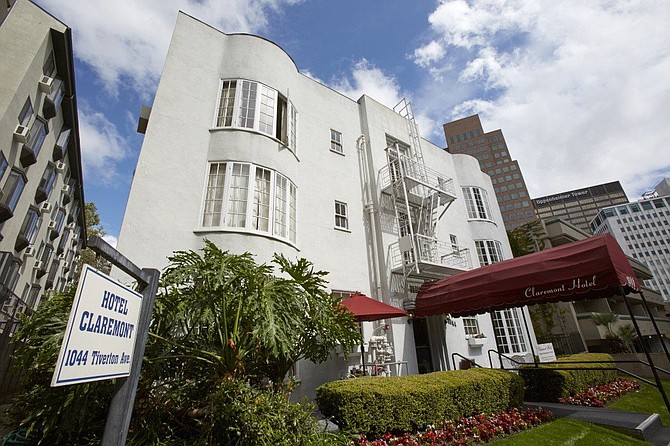 Westwood's oldest hotel is slated for a makeover.
The 55-room Claremont Hotel on Tiverton Avenue, built in 1940, has sold for $12.25 million to Shamina Investments, which intends to give the building its first major renovation, the new owner said Wednesday.
Ben Keywanfar, Shamina's managing partner, said his firm purchased the property in an off-market transaction after approaching the owners, who are the grandchildren of the original owner. Public records list the owner as MFQ Investment Inc.
"They've moved on to other industries and felt it was the right time to bring in a new owner that could maintain the history of what they built and deal with a lot of the neglected elements," Keywanfar said. "The bones of the building were amazing. … It just needs some love."
He wouldn't say how much he intends to spend on the facelift.
Westwood is home to several other hotels, including the W Los Angeles – West Beverly Hills, Kimpton Hotel Palomar, and recently opened Plaza la Reina. But Keywanfar said the Claremont will be more budget-friendly, with rates around $250 a night. The hotel's occupancy rate currently ranges from 80 percent to 85 percent, and he aims to bump that figure to 90 percent.
"We feel that there is a missing link in the hotel market for something like a boutique hotel that isn't quite the W hotel," said Keywanfar.
Renovation plans are still in the works, but Keywanfar said he is seeking out a boutique hotel operator with a strong brand in L.A. and reputation for customer service.
Mission Capital Advisors, based in New York, helped arrange a $11.15 million loan from Thorofare Capital Inc. in downtown Los Angeles for the transaction. Keywanfar said he was able to access the high leverage due to the hotel's solid location in the Westwood market and his plans to bring it up to date.
Shamina, a closely held company in West Hollywood, was founded in 2011. It owns more than $100 million of assets in Los Angeles, including office and multifamily buildings, according to Keywanfar.
Real estate reporter Daina Beth Solomon can be reached at dsolomon@labusinessjournal.com. Follow her on Twitter @dainabethcita for the latest in L.A. real estate news.
For reprint and licensing requests for this article, CLICK HERE.