SPECIAL REPORT: Patient Focus, Growth
Friday, April 21, 2017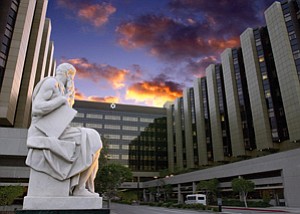 More recent changes include the 2013 opening of its Advanced Health Sciences Pavilion, housing outpatient care, research, and education facilities.
The addition of research and education to the organization's mission has benefitted patients in Los Angeles and around the world, Priselac said. Researchers from Cedars-Sinai were part of a team that pioneered minimally invasive surgery, which makes procedures less painful and more affordable by shortening patients' hospital stay.
Just as the system's research benefits patients inside and outside of the L.A. community, its educational programs train medical professionals that go on to serve Los Angeles and other communities. Cedars-Sinai Medical Center is one of the major teaching programs in the country for graduate medical education, and it also has provided clinical education to tens of thousands of nurses, pharmacists, and technologists, Priselac said.
"Our educational mission and our research mission are contributing to professionals at Cedars-Sinai being able to deliver higher-quality health care and hopefully expanding this capability around the country as well," he said.
The health system acquired the 145-bed Marina del Rey Hospital in 2015 as part of its effort to make health services accessible and available to a wider geographic population in Los Angeles.
Priselac said there is growth in Cedars-Sinai's future not just physically but virtually as well.
"The physical growth is paralleled in the virtual world," he said. "We are making investments in being sure that people are able to access health care services online as well."
For reprint and licensing requests for this article, CLICK HERE.
Prev Next