SPECIAL REPORT: Patient Focus, Growth
Friday, April 21, 2017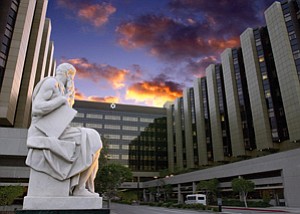 It all began with two small hospitals in the early 1900s that had the goal of caring for the sick in L.A.'s Jewish community.
More than a century later, Cedars-Sinai Health System's mission has evolved. It is now a major medical and research organization, with more than 12,000 employees and almost 50,000 patients admitted last fiscal year.
Its core focus has stayed the same, however.
"From 1902 to the mid-1950s, our only mission was patient care," said Thomas M. Priselac, chief executive of the health system. "Over the last 68 years or so, we added education and research, but care is our No. 1 priority and remains more important than anything we do."
The first predecessor of the Cedars-Sinai Medical Center was the Kaspare Cohn Hospital, which opened in a two-story Victorian home in Angelino Heights in 1902. After relocating to a larger facility on Whittier Boulevard in 1910, Kaspare Cohn reopened in a building on Fountain Avenue as Cedars of Lebanon Hospital in 1930.
The second predecessor of Cedars-Sinai Medical Center was a two-room hospice opened by the Bikur Cholim Society in 1918. The hospice moved to a Boyle Heights home in 1921 after an influenza epidemic and was renamed the Bikur Cholim Hospital. After a few more relocations and name changes, Bikur Cholim was eventually established in 1955 on Beverly Boulevard as Mount Sinai Hospital.
Priselac said one of the most significant milestones in the organization's history was the decision in 1961 by the boards of Mount Sinai and Cedars of Lebanon to merge. At the time, hospitals mainly relied on what individuals paid out of pocket and philanthropic donations.
"I think many people today forget that in 1961 there was no Medicare, no Medicaid, and commercial insurance was not the vehicle it is today for financing health care," said Priselac. "Both institutions were competing for scarce philanthropic resources, and the leadership in the Jewish community agreed it was better to come together to address the health care needs of the Jewish community in Los Angeles and the larger Los Angeles community as well."
Last year, Cedars-Sinai had almost $3.3 billion in revenue and a net income of more than $300 million.
The system's main 1.6 million-square-foot medical center, which has 886 licensed beds, opened in 1976 on Beverly in the Beverly Grove neighborhood.
The organization underwent another transformation in 1994, when Cedars-Sinai Medical Center became Cedars-Sinai Health System. The system comprises the Cedars-Sinai Medical Care Foundation, Physician-Hospital organization, and medical center.
Prev Next
For reprint and licensing requests for this article, CLICK HERE.