Rocket Firm High on New Course in Business
AEROSPACE: Aerojet may seek lift in satellite service
Friday, April 21, 2017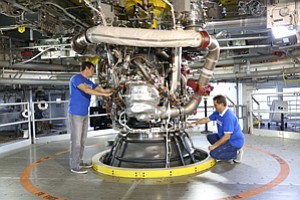 It's easier to launch a rocket when it weighs less.
Aerojet Rocketdyne Holdings Inc. – whose engines and propulsion systems have been a part of every manned mission since the U.S. space program first took flight in 1959 – has decided the best way to chase rivals SpaceX and Blue Origin is to lighten its load by shedding the company's old business model.
Entering the second stage of a six-year cost-cutting program, the storied business said this month that it would eliminate or relocate 1,100 jobs from a rocket manufacturing plant in Sacramento by the end of next year, shifting about 700 jobs to a facility in Huntsville, Ala., and about 100 jobs to the company's headquarters in El Segundo.
"You can't just throw dollars at problems anymore. You have to be really affordable," said Paul Lundstrom, Aerojet's chief financial officer, who joined the company in November after nearly 20 years in finance roles at Hartford, Conn.-based aircraft parts manufacturer United Technologies Corp. "What we are trying to do is change the business model."
The company is selling off land, reducing its workforce, and working on streamlining its manufacturing processes using new technologies such as 3-D metal printing in an attempt to keep pace with upstarts such as SpaceX, officially Space Exploration Technologies Corp., which are reinventing aerospace business models.
Aerojet is also planning to grow the revenue generated by its military missile product line, and possibly add small-satellite launching services, Lundstrom said.
The company projects that the cost-savings program, launched in 2015, will save $230 million annually when completed by 2021. But the strategy is already showing results. Aerojet reported net income of $18.1 million for the year ended Dec. 31, a marked turnaround from a year-earlier loss of $16.2 million. Its share price has risen 23.6 percent since the beginning of 2015 to close at $22.43 on April 19.
Boost to competition
But competition in the rocket industry is fierce. More than 40 startups worldwide, including local players Virgin Galactic and Rocket Lab USA Inc., are developing launch technologies that could increase competition further, said Phil Smith, a senior analyst with Bryce Space and Technology, an Alexandria, Va.-based analytic consulting firm for the aerospace industry. And that's in addition to established launch service providers.
"The older companies, even though they have a legacy, have to adjust," he said. "The issue becomes: Who is going to survive from this?"
Prev Next
For reprint and licensing requests for this article, CLICK HERE.