Hollywood Bed Building Bigger Facility to Handle Major Retail Orders
Chain Reaction
Friday, April 21, 2017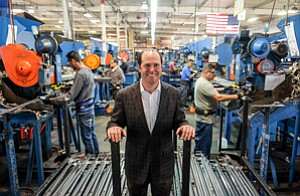 Hollywood Bed & Spring Manufacturing Co. is expanding its Commerce facility to accommodate growth fueled by partnerships inked in recent years with national retailers including Wal-Mart Stores Inc.
The bed-frame maker plans to build a new 20,000-square-foot facility west of its existing Corvette Street location, giving it more than 100,000 square feet. The company said the expansion would accommodate adding 30 more workers to its 170-person payroll by the end of next year.
Founded in 1945, the privately held, third-generation family business manufactures and sources every part for its products from within the United States.
The company has been a supplier to Wal-Mart for the past three years, a beneficiary of the retail giant's 2013 launch of its Made in USA initiative. The Bentonville, Ark., company pledged to purchase $250 billion worth of American-made goods over 10 years – on top of the U.S. products it already was buying, though the retail giant wouldn't disclose what it was spending in that realm.
"We've seen a 10 percent growth in our business due to the deal with Wal-Mart," said Jason Harrow, 42, president of the company that was founded by his grandfather.
Harrow put Hollywood Bed's revenue at between $25 million and $50 million.
At an event this month where the company unveiled its plans for the new facility, Harrow emphasized the importance of having retail chains such as Wal-Mart as a customer.
"There's an important ripple effect when a company like Wal-Mart makes the decision to buy a made-in-the-USA product," Harrow said. "Not only does it help our company and all of our employees, but it helps our cardboard supplier, our steel supplier, our rivet supplier, and their employees and families."
Local to national
Hollywood Bed had a much different clientele for much of its history.
Its founder, Irving Harrow, an immigrant from Poland who moved to the United States in the late 1930s, settled in Cleveland and found work crafting metal bed frames and support products by punching holes in steel with a hand tool, according to his son Larry Harrow, 70, who is chief executive, chairman, and majority shareholder of the company.
The elder Harrow said his father moved to Los Angeles in the early 1940s after marrying an Angeleno and started making bed frames because it was the only thing he knew how to do well.
Hollywood Bed dabbled in diversifying its products by manufacturing mattresses in 1974.
"Due to stringent regulations around mattress making and the fact we realized the metal market was growing, we decided to go back to making only metal bed frames a few years later," the older Harrow said.
The company's frames range in price from $39 to $199.
When Jason Harrow joined the family business in 1997, the company catered to furniture stores, and its customers were largely based in the Midwest. He sought to change that, expanding it over the years into the national market by diversifying its clients, the younger Harrow said.
American Bed's customers include companies in the hospitality industry, the armed forces, and retailers including Costco Wholesale Co., Wal-Mart, and Target Corp. That diversity has helped the company stay competitive, despite not relying on any foreign manufacturers, Harrow said.
The partnership with Wal-Mart began in 2013 when the younger Harrow created and designed a metal bed frame that fit into a smaller box than the usual longer and wider boxes that housed metal bed frames.
"It has no nuts and bolts; it's adjustable in size; and for Wal-Mart, where shelf space is important, this was perfect. It helped that the product was made domestically," he said.
Wal-Mart started carrying the line in spring 2014, and Harrow, who holds a patent on that bed frame, said the product is available in more than 3,000 of its nearly 4,700 stores across the country. It retails for $55.
Made in USA
Hollywood Bed is not the only L.A. business to benefit from Wal-Mart's buy American program.
Last year, the company purchased product from 773 L.A. suppliers and spent more than $7.5 billion in Los Angeles County, nearly a third of its total statewide spend, said Adriana Fernandez, a spokeswoman for the retail titan. Wal-Mart purchases two-thirds of the products it carries from the United States and imports the rest, according to the company.
"There are a lot of existing manufacturing facilities in the country, and if they have a great item to offer, we're trying our best to reach them," said Cindi Marsiglio, vice president for U.S manufacturing at Wal-Mart.
Marsiglio said the company is on track to meet its $250 billion purchase commitment for U.S.-made products by 2023, but she would not provide further details.
Wal-Mart did away with the "Made in USA" labeling on products on its website in 2015 after it came under fire following reports from a nonprofit advocacy group, Truth in Advertising, that found more than 100 products listed on the website as such didn't meet requirements for the American-made designation.
To have a "Made in the USA" label, all components of a product must be made and assembled in the United States, according to the Federal Trade Commission. Wal-Mart at the time said it relied on its vendors to provide correct information; nonetheless, an FTC investigation resulted in the removal of the claim.
The retailer said that it has continued purchasing from companies that are based in and make products in the United States.
That policy has trickled down to companies such as Hollywood Bed's suppliers, which have benefitted from Wal-Mart's philosophy.
Among them is Beaumont rivet maker Risco Inc., which has been supplying rivets to Hollywood Bed for more than three years.
"Since working with them we've added five more people in our facility just to sustain demand," said Lisa Frainee, co-owner and vice president of sales and marketing at Risco.
For reprint and licensing requests for this article, CLICK HERE.