Moving Into Koreatown
DEVELOPMENT: Proximity to Westside, downtown, rail line fuels market's attraction.
Friday, April 14, 2017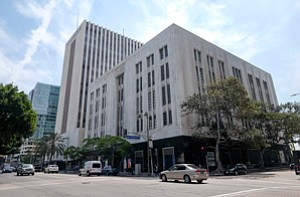 More residents could soon flood one of the most densely populated neighborhoods in Los Angeles.
Nearly 3,000 apartment units are under construction in Koreatown as developers seize on the market's urban vibe, transit lines, and central location, pumping a wave of investment into an area that is outgrowing its roots as a blue-collar immigrant enclave.
"In the past, Koreatown was something Angelenos drove through – and past," said Jay Chu, president at Koreatown-based Secured Properties Inc. "But if you look at the location, it's right smack dab in the middle of the city. … Koreatown is ripe for development."
The construction boom, documented in public filings and set to potentially include an additional 5,450 proposed units, is part of a growing movement among urban planners and city officials to encourage multifamily housing along bustling transit corridors.
"We want to have more places like Koreatown," said Mark Vallianatos, director of the Los Angeles Planning and Land Use Society. "It's not only doing its part to meet our housing meets, but is a cool place that is ethnically diverse and has a rich history. … There's transit to get around, interesting restaurants, interesting culture. It's what a city should be like."
Developers are feeling bullish that units with high-end finishes and amenities such as gyms and dog parks will hold a competitive advantage over Koreatown's existing apartments. Most of the latter were built before 1970, with only 6 percent delivered between 2000 and 2014, according to last year's USC Casden Forecast.
Developers are also betting that tenants will swallow higher-than-usual Koreatown rents for new apartments in a walkable area where the Los Angeles County Metropolitan Transportation Authority is extending the Purple Line subway westward along Wilshire Boulevard.
Demand is already strong: The Casden report says that Koreatown's 2015 apartment vacancy rate was 7.4 percent. It is projected to fall to 7.1 percent by next year.
"Koreatown has an incredible amount of demand," said David Schwartzman, founder of Beverly Grove-based Harridge Development Group, which is converting the former I. Magnin department store on Wilshire into a hotel and plans to build apartment towers in the adjoining parking lot. "It's convenient to the Westside and to downtown, and has its own life and culture that's just growing."
Fragile period
The neighborhood of about three square miles became a hub for Koreans and Korean Americans after 1965, when the United States loosened restrictions on Asian immigration.
Prev Next
For reprint and licensing requests for this article, CLICK HERE.