Moving Into Koreatown
DEVELOPMENT: Proximity to Westside, downtown, rail line fuels market's attraction.
Friday, April 14, 2017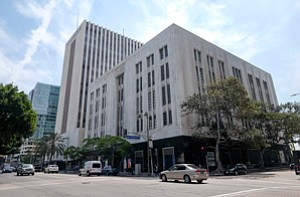 More residents could soon flood one of the most densely populated neighborhoods in Los Angeles.
Nearly 3,000 apartment units are under construction in Koreatown as developers seize on the market's urban vibe, transit lines, and central location, pumping a wave of investment into an area that is outgrowing its roots as a blue-collar immigrant enclave.
"In the past, Koreatown was something Angelenos drove through – and past," said Jay Chu, president at Koreatown-based Secured Properties Inc. "But if you look at the location, it's right smack dab in the middle of the city. … Koreatown is ripe for development."
The construction boom, documented in public filings and set to potentially include an additional 5,450 proposed units, is part of a growing movement among urban planners and city officials to encourage multifamily housing along bustling transit corridors.
"We want to have more places like Koreatown," said Mark Vallianatos, director of the Los Angeles Planning and Land Use Society. "It's not only doing its part to meet our housing meets, but is a cool place that is ethnically diverse and has a rich history. … There's transit to get around, interesting restaurants, interesting culture. It's what a city should be like."
Developers are feeling bullish that units with high-end finishes and amenities such as gyms and dog parks will hold a competitive advantage over Koreatown's existing apartments. Most of the latter were built before 1970, with only 6 percent delivered between 2000 and 2014, according to last year's USC Casden Forecast.
Developers are also betting that tenants will swallow higher-than-usual Koreatown rents for new apartments in a walkable area where the Los Angeles County Metropolitan Transportation Authority is extending the Purple Line subway westward along Wilshire Boulevard.
Demand is already strong: The Casden report says that Koreatown's 2015 apartment vacancy rate was 7.4 percent. It is projected to fall to 7.1 percent by next year.
"Koreatown has an incredible amount of demand," said David Schwartzman, founder of Beverly Grove-based Harridge Development Group, which is converting the former I. Magnin department store on Wilshire into a hotel and plans to build apartment towers in the adjoining parking lot. "It's convenient to the Westside and to downtown, and has its own life and culture that's just growing."
Fragile period
The neighborhood of about three square miles became a hub for Koreans and Korean Americans after 1965, when the United States loosened restrictions on Asian immigration.
Many Korean immigrants settled in Los Angeles and established businesses through the 1970s along Wilshire and Olympic boulevards and Western and Vermont avenues. The area attracted immigrants from Central America in the 1980s, and the 2000 U.S. census counted the population as half Latino and 32 percent Asian.
The three ZIP codes that make up central Koreatown are home to 30,590 people per square mile, among the densest neighborhoods in Los Angeles, and nearly all residents are renters, according to the 2015 American Community Survey. The same area has 37,120 housing units.
The neighborhood's growth was not always a sure thing. In 1992, riots tore across South Los Angeles and Koreatown after police officers were acquitted in the Rodney King beating case. More than 2,000 Korean-run businesses were damaged or destroyed in less than a week, with losses estimated at $400 million.
"After the riots, when Koreatown was getting back on its feet, it was considered a dent in the middle of the city, it was not considered very safe," said Jaime Lee, chief executive of Koreatown-based developer and landlord Jamison Realty Inc.
Lee's father, physician David Lee, turned that shaky environment into opportunity, buying up a string of Koreatown office towers in the early 1990s. The company now controls about 8 million square feet of commercial space in Koreatown's Mid-Wilshire area, more than any other landlord in the market.
After opening its first apartments in 2013 at the Westmore, a converted midcentury office building on Wilshire Boulevard, Jamison is tackling ground-up residential construction for the first time, with seven projects underway in Koreatown.
"I spent my whole life working in this neighborhood. I see the vibrancy of it and the potential," Jaime Lee said. "People realize this is the center of L.A., the middle piece that links to the Westside, to downtown, to Hollywood."
Jumping in
Other developers without extensive Koreatown histories have come to similar conclusions.
Century West Partners purchased land on Berendo Street in 2012 after building apartments in downtown.
"We noticed Koreatown had more than three times the population of downtown," said Steven Fifield, a Century West partner. "There had been very little built in the past couple of decades. … We thought there was good pent-up demand."
The firm recently completed apartment project K2LA, with 478 units across three buildings. The first two properties are about 95 percent leased, while the third, open since June, is 75 percent leased, Fifield said.
The company is now focusing attention on the construction of Next on Sixth, which will deliver 398 apartments and a ground-floor City Target. The store will be one of Koreatown's few mainstream retailers in a sea of mom-and-pop businesses, aside from supermarkets, grocery stores, coffee shops, and fast-food eateries.
Harridge's Schwartzman targeted Koreatown's historic appeal when he purchased the I. Magnin building in 2015 for $49 million.
Built in 1939, the former department store boasts a 25,000-square-foot art deco lobby and white marble façade. Schwartzman's plan is to convert the property into a boutique hotel with about 150 rooms, two restaurants and a lounge, and topped by a rooftop pool. He also plans to construct two residential towers with 545 apartments in the adjacent parking lot.
Koreatown's ability to change and absorb even more housing is important, he said.
"We're in an area with a lot of foot traffic, heavy population. We have a growing city. Where are we going to put people?" Schwartzman said. "If you densify, you make life easier for the surrounding areas. If everyone moves to the suburbs, you'd never get home at night."
Sean Burton, chief executive of Westwood-based multifamily developer CityView, said he turned to Koreatown as an affordable alternative for land compared with downtown and Hollywood, meaning he would not need to pass along a hefty acquisition cost to tenants.
CityView's Pearl building at Wilshire and Hobart Boulevard is set to open early next year with 346 apartments in a five-story building. But Burton cautioned that taller, more expensive projects could be risky, since construction costs have ratcheted up faster than rents over the past few years. Land values, too, are at least 50 percent more expensive in Koreatown than they were a few years ago, and that could stall acquisitions for new projects.
"A lot of people are going to have a wait-and-see attitude – see if these 32- and 36-story high-rises are going to be built and what kind of rents are available," Burton said. "The secret is out in Koreatown."
For reprint and licensing requests for this article, CLICK HERE.