Power Companies Charge Into Storage Ventures
ENERGY: Tesla's batteries drive SoCal Edison's plan for Mira Loma facility.
Friday, September 30, 2016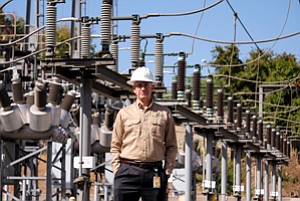 Ever since Benjamin Franklin's attempt to harness lightning, inventors have tried to find clever ways to store electricity. Last month, Southern California Edison announced plans to encourage just that as part of an ongoing state effort to increase renewable energy capacity over the next decade.
The Rosemead utility has contracted Tesla Motors Inc. to build a 20-megawatt battery storage facility in Mira Loma, which would be able to deliver maximum power for four hours, before the end of the year. The batteries will help replace natural gas storage capacity lost as a result of the Aliso Canyon storage facility leak, said Colin Cushnie, vice president of energy procurement and management in SoCal Edison's power supply unit.
"Edison will be able to operate the devices to discharge electricity during peak demand or when there is insufficient natural gas to supply our power plants," he said.
But batteries aren't the only type of energy storage system being developed by local companies. SolarReserve of Santa Monica has pioneered solar plants that use an array of mirrors to focus light from the sun into a central tower filled with heat-conducting molten salt, which is used to generate electricity through steam.
Then there's Eagle Crest Energy, which plans to pump water uphill at an abandoned surface mine in the Mojave Desert when electrical rates are low, then flow the water downhill through hydroelectric turbines to a lower reservoir when rates are high, taking advantage of a price differential.
The growth in the electricity storage market is partly related to twin mandates by the California Public Utilities Commission that investor-owned utilities in the state increase their energy storage capacity to 1,325 megawatts by the end of 2024, enough to power nearly 1 million homes, and that 50 percent of California's energy come from renewables by 2030.
However, the economics of energy storage still need to be worked out, said Haresh Kamath, senior program manager at the Electric Power Research Institute in Palo Alto, noting the abundance of cheap natural gas capacity available in the United States.
"There are a lot easier and lower-cost ways of getting the capacity that the state needs," Kamath said.
Storage is in many ways the Holy Grail of the clean energy sector. Solar plants generate electricity only when the sun is out; wind farms produce even when demand is at its lowest. The growth of the storage sector makes it easier for those generation sources to pencil out.
"As we add more and more intermittent resources to the grid, such as solar and wind, that makes the energy storage need more intense," said Kevin Smith, chief executive of SolarReserve, who worked for more than two decades developing natural gas and oil-fired power plants and as an engineer at nuclear power facilities. He moved to the renewable sector in 2004, joining wind energy developer Invenergy.
Founded in 2008, SolarReserve has raised $225 million from backers including Santa Monica's U.S. Renewables, Bregal Energy, and Seven Mile Capital Partners. U.S. Renewables has also invested in compressed-air energy storage companies such as Westwood's Mirus Energy and General Compression of Newton, Mass.
SolarReserve's first solar-power project, a 110-megawatt plant outside Tonopah, Nev., powers 75,000 homes in that state as part of a 25-year deal to sell energy to utility NV Energy. The plant cost $975 million to build.
The firm also has solar plants in South Africa, and others are planned in China and Chile. The facilities are financed through a combination of commercial debt and strategic investment, said Smith. SolarReserve's molten salt tanks can supply maximum energy output for 10 hours after the sun sets.
Potential energy
SoCal Edison already buys energy storage wholesale services from third-party vendors such as Ice Energy, Stem, Advanced Microgrid Solutions, and AES Corp. In addition to Tesla, SoCal Edison's batteries are supplied by LG, General Electric, and Samsung.
Together, it has contracts with vendors to install 400 megawatts of capacity by 2020 – right now the utility only has 15 megawatts online. Edison will also operate its own battery systems.
Tesla claims the Mira Loma battery storage facility will be the largest in the world and hold enough electricity to power more than 2,500 households a day. The cost of the facility was not disclosed, but a 2-megawatt Tesla battery system costs about $2.9 million, according to the company's website, which would put the sticker price at $58 million, though Tesla reportedly offers bulk discounts.
A spokeswoman for SoCal Edison wouldn't specify how much the energy storage systems would cost rate payers, but said as part of a general effort to modernize the electrical grid, the utility is requesting an average rate increase of about 2.7 percent in 2018, 4.2 percent in 2019, and 5.2 percent in 2020.
Cushnie added that batteries are more cost-effective than building a natural gas power plant in a dense urban setting.
For situations where land and capital constraints are less of an issue, large-scale molten salt and hydroelectric pump systems store electricity at cheaper cost, said SolarReserve's Smith.
For its part, Eagle Crest of Santa Monica hasn't begun construction on its hydroelectric storage facility in the Mojave, which is estimated to cost $2 billion. The company, which has raised an undisclosed amount of capital from Santa Monica's Upfront Ventures and others, must first navigate myriad regulatory approvals and environmental reviews, some of which might result in litigation.
Its facility would primarily serve as a reservoir for energy generated at nearby solar and wind farms. When full, the system could store up to 1,300 megawatts of electricity – enough to power more than 1 million homes for up to 18 hours, Steve Lowe, the company's president, wrote in an email.
"Energy can be stored during periods of excess generation and supplied to consumers when energy demand peaks," he wrote.
Though there are many energy storage technologies on the market today, it's not likely that one system will win out over the others, said Jim McDermott, a managing director at U.S. Renewables.
"You are going to see many solutions over the next 10 to 20 years serving all parts of the market," he said.
And as companies work to make the various technologies more efficient, costs will fall, eventually benefiting ratepayers.
"If the price comes down substantially, then energy storage becomes very viable as a source of capacity on the grid," said Kamath of the Energy Power Research Institute. "That seems to be the case in the next three or four years in California."
For reprint and licensing requests for this article, CLICK HERE.