Life Sciences Get Shot In Arm in L.A.
Trade group pumped about prognosis for local industry's future.
Friday, September 30, 2016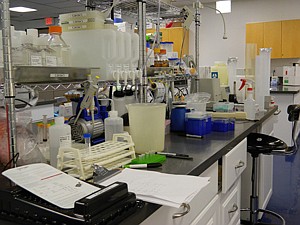 As part of an effort to boost Los Angeles County's life sciences industry, trade group California Life Sciences Association last week announced strategic partnerships with bioscience incubator Lab Launch Inc. and research institute LA BioMed.
As a result, CLSA has launched a satellite office in Lab Launch's Monrovia headquarters, where its staff will help biomedical companies with political advocacy, special industry events, and professional development.
CLSA, formed last year through the merger of the Bay Area Bioscience Association and San Diego's California Healthcare Institute, decided to plant its flag in Los Angeles because the city is home to numerous research universities, teaching hospitals, biomedical research organizations, and startups, Sara Radcliffe, its chief executive, said in a statement.
"Long term, we see it as the real hub for biotechnology, especially as our industry starts impacting other industries," added Llewellyn Cox, chief executive of Lab Launch.
This is the second biomedical trade group to open an L.A. office this year. San Diego's Biocom, which represents more than 750 San Diego-area life sciences companies, launched an L.A. outpost in June. The latest entrants join SoCalBio, a local trade group that's been active for more than 20 years.
Lab Launch operates an 11,000-square-foot incubator and co-working space for biotech startups that pay an $1,800 monthly membership for access to a lab bench, biomedical equipment, Wi-Fi, and unlimited coffee. The company doesn't take equity from its members.
– Garrett Reim
For reprint and licensing requests for this article, CLICK HERE.