Digital Resolution
ArbiClaims pitches speedy online deliberation as alternative to state's crowded courtrooms
Friday, September 30, 2016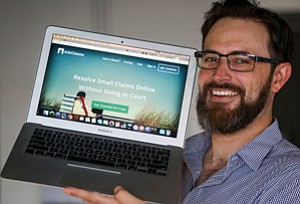 Far from the dusty courtrooms, crowded hallways, and lingering stench of frustration that epitomize small claims court is the bright, airy downtown office of ArbiClaims.
A startup that allows parties to settle financial disputes of up to $10,000 online, instead of in person, ArbiClaims touts the prospect of a legal resolution from the comfort of your own home.
"People who have not been (to small claims court) think of it as very painful and intimidating," said Stephen Kane, founder of ArbiClaims. "People who have think of it as even more painful."
Arbitration is a decades-old practice that has become increasingly attractive as delays mount in California's underfunded and overburdened courts.
While ArbiClaims isn't the only business offering online arbitration services – there are quite a few others with varying business models – Kane said his service distinguishes itself through additional features, such as webcam hearings.
Kane said he saw the demand for small claims services when he was working as a lawyer representing startups and small businesses: handling disputes, drafting contracts, and dealing with labor issues. Prospective clients reached out for representation, but he wasn't an affordable option for many of the cases.
"Most people have never hired an attorney before," said Kane. "So then I would have to break their hearts and say, 'By the time I sneeze, I'm going to cost you 1,000 bucks.'"
ArbiClaims landed its first case last year and has since processed about 225, according to Kane. He expects that number to reach the thousands by the end of this year, due in large part to burgeoning partnerships with referral companies, including legal information provider U.S. Legal and car-sharing service Turo.
ArbiClaims has three full- and two part-time employees, and nine contracted arbitrators. In July, the company secured $135,000 in seed funding, and Kane said that sum, combined with a personal investment of a few thousand dollars and revenue from the business, has kept ArbiClaims in the black.
Joseph N. Sanberg, a partner at Aspiration Growth, a Westwood private equity firm that participated in the seed round, said he was compelled by Kane's leadership and convinced that significant demand exists for a service such as ArbiClaims.
"We support companies that are making the world better and in the process of doing so, building lasting value," said Sanberg.
The process for using the service is relatively simple: Each party pays a fee based on the size of the claim, with costs starting at $79 a person for claims under $1,500, and scaling up to $159 a person for claims that are $5,000 to $10,000. The parties both then gather witness testimony, upload pictures and documents to support their argument, and then, with the help of an arbitrator, participate in a 15- to 30-minute hearing conducted via webcam on Google Hangout. From filing to settlement, the process takes about one month, said Kane.
Most claims filed on ArbiClaims involve monetary issues, Kane said, such as unpaid invoices and security deposit disputes. Its arbitrators are all lawyers, though many are stay-at-home parents, retirees, or lawyers starting their own practice and so have more time to take on cases. Arbitrators are paid a flat fee of between $80 and $120, depending on claim size and complexity.
Russell Korobkin, one of ArbiClaims' arbitrators and vice dean at the UCLA School of Law, said the online system is user friendly and fills a void in the world of dispute resolution.
"It uses technology to do exactly what people are already doing but more efficient and more conveniently," said Korobkin.
Quick resolution
Kane, 37, was sole founder of ArbiClaims, but earlier this year took on John Boese, the startup's chief technology officer, as a partner. Prior to launching the business, Kane worked at various legal practices and was one of the first sales hires at Lex Machina, which provides law firms and business with legal analytics intended to help them win cases and close deals.
ArbiClaims claims to have streamlined a process that faces what Korobkin called big hurdles: The system is time-consuming and complicated, and judges often have only a few minutes to review facts before making a ruling. Even though these suits typically involve smaller amounts of money, the legal and factual issues of the case can be complex.
Still, even its arbitrators have limited time to hear evidence on both sides and make a thoughtful decision.
"Both small claims court and ArbiClaims have a model that assumes that the arbitrator will be able to decide the case and give the parties a satisfactory hearing, and accomplish both these things with only 15 minutes of a hearing," said Korobkin.
What's more, while ArbiClaims might be attractive for a plaintiff, there's not much incentive for a defendant to comply, he said, making it harder to drum up business.
There is an opening, however, in targeting situations where there is a preexisting contract or user agreement requiring the use of arbitration in the event of a dispute.
That's why Kane's working to build partnerships with companies that deal with a high volume of complaints.
Some referring partners, he said, get a referral fee for sending business if they are not a party to the litigation.
Among his clients is the Better Business Bureau's office serving Los Angeles and Silicon Valley, which handles about 68,000 consumer complaints a year in California, pouring in from Palo Alto to Long Beach. In September, the nonprofit announced it would refer unresolved customer complaints against businesses not accredited by the bureau to the ArbiClaims site.
"The Better Business Bureau offers free arbitrations to accredited businesses and customers but not for unaccredited ones," said Steve McFarland, chief executive of the regional BBB office.
The nonprofit expects to refer about 15 to 20 consumers a month. Although companies will be under no obligation to participate, most businesses will want to resolve their claims in order to maintain their reputations, according to the bureau.
Recently, there's been a growing number of innovative efforts to build online dispute resolution tools, and they're much needed, said Gillian Hadfield, a professor of law and economics at USC.
"There's tremendous demand for mechanisms to help people deal with disputes," said Hadfield. "Much of our legal systems is really out of reach for most people."
Small claims is supposed to be the exception to that rule, but many people still find it time-consuming and dispiriting, she said.
For reprint and licensing requests for this article, CLICK HERE.