Lakers President Jeanie Buss Gets in Ring with Women's Wrestling
A Look Ahead: What's on the agenda for Los Angeles business in the coming week
Friday, September 23, 2016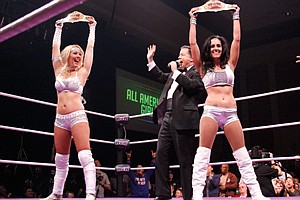 Jeanie Buss knows a thing or two about entertaining basketball fans downtown, but now the Los Angeles Lakers president is bringing a different sport to the area: professional wrestling.
Buss is majority owner of Women of Wrestling Enterprises (WOW), which will take over the Belasco Theater this week to kick off its fall season. The female-only wrestling series will host a main event, featuring title bouts, at the 1,200-seat theater on Sept. 29 with smaller shows taking place twice a month through December in Long Beach. The series will be filmed and edited into digital episodes that fans can watch online for free beginning in November.
Buss said her goal is to craft empowering narratives for women while also sticking to the elements that wrestling fans love.
"It is important that the storylines are traditional with good versus evil, but the message that I embraced is that these are women solving problems for themselves. They are not running to a man to solve the problems," she said.
Buss has actually been involved with the league since 2001, a year after it was founded by David McLane, a former producer at ESPN who was involved in the Gorgeous Ladies of Wrestling series in the 1980s.
The first WOW series in 2000 went into syndication and had upward of 10 million fans watching events taped at the Forum in Inglewood, according to McLane. The show went on hiatus after the Sept. 11, 2001, terrorist attacks due to a severe drop in the advertising market.
Buss and McLane launched the reboot three years ago, with the first two seasons held in Las Vegas.
The Long Beach-based company has 25 wrestlers under contract. It employs an additional 50 people during the season for video production. McLane writes the shows and creates the superhero wrestling characters, with some of the wrestling personas tailored to fit the real-life athlete. For example, the performer who plays Keta Rush competed in track at UCLA and super attorney Sophia Lopez is played by a woman with a law degree.
Wrestlers are paid for their performances and receive a portion of licensing and merchandising revenue. WOW recently signed a licensing representation agreement with West Hollywood-based CMG Worldwide. A portion of wrestlers' compensation is based on how much social media engagement they generate for the company.
McLane and Buss hope to grow the brand's value this season before seeking out traditional advertising and corporate partnerships. McLane said the company is not yet profitable.
WOW is a passion project for Buss, who said she has invested a six-figure sum in the business. A former high school athlete, she wants to provide more opportunities for women to earn a living in sports.
"There are great performers that deserve a platform to show the talent, strength, and abilities that they have," said Buss. "I want it to be a touring property that will employ many different performers on a year-round basis. That would be the ultimate dream."
General admission tickets for the Belasco event cost $15 while VIP experiences that include meet-and-greets with the athletes run $95.
For reprint and licensing requests for this article, CLICK HERE.