Sinking Shipper Receives Bailout
Friday, September 9, 2016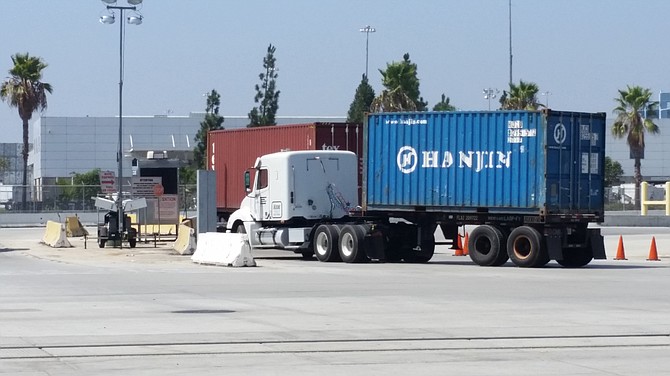 Stranded Hanjin Shipping Co. vessels, including three ships bound for the Port of Long Beach, were expected to start moving again after the bankrupt carrier's parent company pledged $90 million in aid last week.
However, the future of the seventh-largest shipping company in the world was still in question, including at its Long Beach terminal, the port's largest.
The same day Hanjin Group said it would provide a cash infusion to allow Hanjin Shipping's vessels around the world to pay docking fees and unload their cargo, a U.S. bankruptcy judge also helped clear the way by granting the company temporary protection from its creditors.
A South Korean official said Sept. 7 that he expected the Long Beach ships to be able to offload their cargo last week, the Associated Press reported.
Long Beach CEO to Weigh Anchor
Jon Slangerup to wing way to aviation company
Port of Long Beach Chief Executive Jon Slangerup announced his resignation Sept. 8, amid turmoil in the global shipping industry after the bankruptcy of the world's seventh-largest cargo carrier.
According to a release from the port, Slangerup is leaving to become chairman and chief executive of "a leading aviation technology company." He will leave his position at the country's second-largest port on Oct. 28 and take up his new post Oct. 31.
The announcement comes on the heels of Hanjin Shipping Co. filing for court receivership in South Korea, a reflection of the financial struggle most carriers have faced after the recession because of low demand and prices. With Hanjin's vessels unable to pay docking fees and unload their cargo or pick up new containers, the global goods movement has struggled to meet the demand of shippers heading into the peak holiday shopping season.
Hanjin is a key cargo carrier at the Port of Long Beach and has a majority ownership in its largest terminal, which handles one-third of the port's traffic.
Slangerup joined the port in June 2014 just as an even greater challenge was on the horizon. A contract dispute with dockworkers led to a labor slowdown that lasted months, causing historic congestion at West Coast ports. – Paul Eakins
But Hanjin's role at the port goes far beyond the ships themselves.
The Long Beach Board of Harbor Commissioners had a special meeting Tuesday "to discuss price and terms of payment for the Pier T Container Terminal," according to the meeting agenda. The negotiating party listed on the agenda is Total Terminals International, which owns the Pier T lease and in which Hanjin Shipping Co. has majority ownership.
The meeting was closed to the public because it involved real estate negotiations. Port spokesman Lee Peterson said no action was taken, but he confirmed the commission's discussion involved the Pier T lease. The pier handles about one-third of the port's cargo.
Peterson said that despite Hanjin's bankruptcy, "TTI is current in all of its payments to us."
That hasn't been the case for many Hanjin-affiliated operations.
Since filing for court receivership in South Korea, Hanjin ships across the world have either been seized by governments or left stuck at sea unable to pay docking fees, and the company has effectively ceased to operate. This has caused a domino effect, slowing global cargo movement.
Hanjin isn't alone in its financial struggles; most shipping companies have been affected by a glut of ship capacity and shrinking demand. But Hanjin Shipping, with $5.5 billion in debt, would be the largest cargo carrier to fail if the company is dissolved.
The company's efforts to extend its debts and sell off assets came to a head last month, when creditors led by Korea Development Bank refused to approve Hanjin's restructuring plan.
For reprint and licensing requests for this article, CLICK HERE.