New Tower in Downtown Piles Up Office Space
REAL ESTATE: Skyscraper Wilshire Grand facing challenges on leasing front.
Friday, September 9, 2016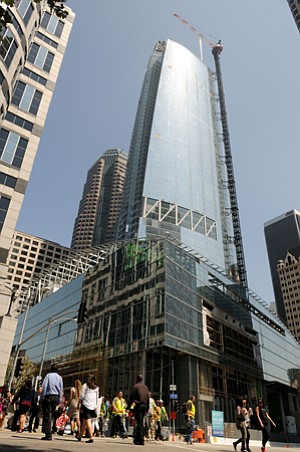 The Wilshire Grand Center just became the tallest building in the West, capped last week by a spire that pushes the 73-story tower to 1,100 feet.
Yet, for all the buzz surrounding the anticipated debut next spring of downtown's first new skyscraper in 20 years, leases for the 365,000-square-foot office component have yet to get inked.
"Typically, when a building is at this stage, they would expect to have an anchor tenant in there by now and significant leasing," said Steven Kolsky, an executive vice president at commercial real estate firm Newmark Grubb Knight Frank's Century City office. "I think they have their work cut out for them."
Steven Marcussen, an executive director at Cushman & Wakefield handling the Wilshire Grand's leasing, said building owner Korean Air Lines Co. Ltd. is expected to lease one floor of the 18 stories of office space. No other major tenants have been signed.
Filling the office portion of the tower might take some time. Downtown closed the second quarter with 4.9 million vacant square feet, and the Korean Air tower will add 7 percent to that tally. The vacancy rate downtown, while improving over recent quarters, was above 16 percent in the second quarter. While the submarket has posted positive net absorption, with more space coming off the market than being put into the rental pool over the last few periods, the second-quarter figure of less than 70,000 square feet was nominal for a 30 million-square-foot submarket.
"They're offering a lot of office space, and that market hasn't had very strong net absorption," said Tomas Schoenberg, executive vice president of investments for San Francisco-based Swig Co., which owns an office building near the Wilshire Grand. "It'll be a challenge to get it leased up. They are in need of a major user to take a big chunk."
But Marcussen said Korean Air is in no rush to sign office deals. As both developer and landlord eyeing a long-term hold, the company would rather hold out for a top-notch roster of firms.
"We're going to put just the best tenants in the market into this space," he said.
Looking up
Korean Air began construction on the $1 billion project in 2014 after tearing down the former Wilshire Grand, a hotel and office center built in 1952. The Seoul-based company owned by Cho Yang-ho's Hanjin Group initially planned to construct a pair of towers – one a 1.5 million-square-foot office tower, the other a hotel and condo complex. But by the time blueprints were ready in 2011, the recession had crimped demand for office space. Korean Air regrouped and tapped downtown architecture firm A.C. Martin for a new design, putting hotel rooms and offices into one sleek tower.
Prev Next
For reprint and licensing requests for this article, CLICK HERE.