Academy Looks to Spread out Emmys Action with Three Award Nights
Friday, September 9, 2016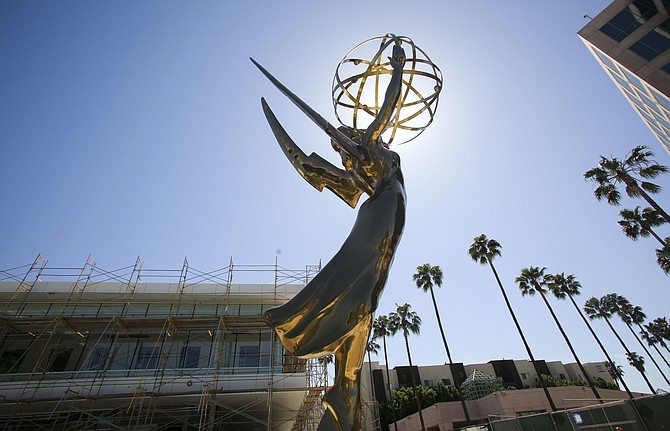 Downtown is abuzz with television's most critically acclaimed stars.
The Television Academy's 68th Primetime Emmy Awards will be broadcast live on ABC from the Microsoft Theater at L.A. Live on Sept. 18, but the festivities celebrating the industry's best shows and talent have already begun.
"It's not just about Emmy day – it's about the whole month leading up to it," said
Maury McIntyre, president of the Television Academy. "It's been getting bigger and better every year."
Each year, one of the four broadcast TV networks – which are on a rotation – is responsible for producing the red-carpet preshow and the awards ceremony. This year's show, hosted by ABC late-night host Jimmy Kimmel, has grown its number of award categories to 113, with five added for short-form scripted and reality content. The broadcast will be directed by Emmy winner Glenn Weiss, and executive produced by Don Mischer, Charlie Haykel, and Juliane Hare.
For the first time, the Creative Arts Emmys, which include many of the behind-the-scenes categories such as makeup and editing, will take place on two separate nights, Sept. 10 and 11. The FXX network will air footage from both nights on Sept. 17.
That also means three separate Governor's Ball after-parties will take place at the Los Angeles Convention Center after each of the award event presentations. Cuisine from downtown's Patina Catering and other local vendors will be on offer for attendees.
"We like the footprint we've been able to make downtown," said McIntyre. "We want to be sure we're not interrupting what's going on there, but rather are augmenting it."
The academy has also spread out its operations to include use of the Staples Center as a welcome area for talent to have a last chance to refresh before walking the red carpet.
"Every year we tweak the layout to make sure it's as efficient as it can be and also as welcoming as it can be," added McIntyre.
This year's red-carpet arrivals, for example, will be flipped so that actors and showrunners can pose for cameras and interviews first before reaching fan-filled bleachers and heading into the theater.
The academy's multiyear contractual relationship with the Microsoft Theater has been a positive one, said McIntyre, who noted the organization might need to look for a new space going forward.
"At a capacity of 6,000, it's possible we'll outgrow it in the future," he said.
The academy itself has also gotten new digs. The reimagined campus in North Hollywood, including the new Saban Media Center and Wolf Theatre, opened June 2.
For reprint and licensing requests for this article, CLICK HERE.