Cocktail Offers Taste of Luxury
Restaurant taps rare rum in whipping up mai tai that will set you back $26.
Friday, September 9, 2016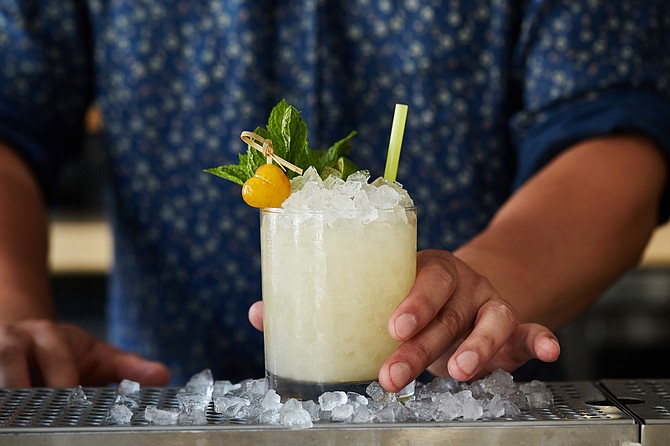 If the $26 mai tai at Koreatown restaurant Here's Looking at You gives you sticker shock, blame the bartender.
When Allan Katz was crafting cocktail recipes for the eatery's opening in July, he discovered a rare rum similar to the Jamaican spirit poured into the first mai tai concoctions in the 1940s.
"This is far and away the closest we've ever come to the original," he said. "It's a huge deal."
Authenticity comes at a price. The Revelation Rum from Maxwelton, W.V., distributor Smooth Ambler – aged for years in oak barrels in Jamaica – costs nearly $60 a bottle wholesale and yields only a dozen servings. It's not the only ingredient: Katz also makes his own orgeat syrup (made of apricot kernels and almonds that have been cooked in sugar, bourbon, and an allspice-flavored liqueur) and Curacao liqueur (made from brown-sugar simple syrup and Grand Marnier).
"The cost of making this drink is triple the cost of your average classic cocktail at this bar," he said.
You need only pay $14 or $15 for drinks like the Strawberry Solstice martini or the College Radio, a cocktail of bourbon, orgeat, and citrus flavorings. Smooth Ambler won't reveal to Katz just how much Revelation Rum is left, and Katz suspects the supply is dwindling fast – especially as rival bartenders catch on.
"We're urging folks to have a taste of history before it's gone again," he said.
The appeal seems to be working, said Lien Ta, the restaurant's co-owner with chef Jonathan Whitener.
"We're just going to sell it for as long as we can," Ta said.
– Daina Beth Solomon
For reprint and licensing requests for this article, CLICK HERE.